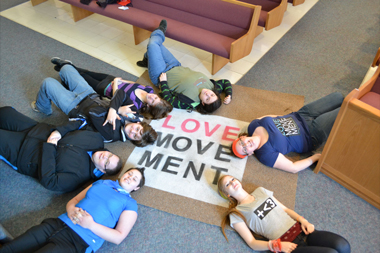 Taking action on child poverty carried a whole new meaning as eight youth from Chatham-Kent Ministries, Ont., participated in an Amazing Race-style event for the Global TV program
Love is Moving
.
As they raced to several locations including a thrift store, park, fire station and food bank, they performed tasks such as pitching a tent and balancing buckets of water while learning surprising facts about poverty in their community and around the world.
"The youth learned how big of an issue child poverty is locally," says Captain Stephanie Watkinson, corps officer.
She notes that, in 2012, almost 5,000 children received food through the Army's local community and family services. "We are finding temporary housing for youth aged 16 to 21 and we continue to provide snacks to four schools in Chatham-Kent. One of the youth who participated in the event was shocked that we did that."
The purpose of
Love is Moving
is to encourage youth to be compassionate and journey with those in need. The episodes will air for six weeks starting this Sun. May 26 on Global TV at 9:30 a.m. EST (during Context's time slot).
"This experience opened the eyes of our youth to their surroundings and encouraged them to show the sacrificial love God shows us," says Captain Watkinson. "This generation is about action and we hope they will put that love into action for Christ."
Love is Moving
features youth groups who participate in a curriculum by an organization called the Love Movement, which seeks to empower Christian youth to live out their faith in their communities through a revived Biblical understanding of love. For more information, visit
www.lovemovement.org
and
www.facebook.com/joinlovemovement
.