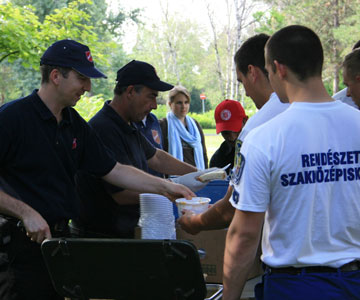 After severe flooding in Austria, Germany and the Czech Republic, the swollen River Danube is threatening the Hungarian capital Budapest. Prime Minister Viktor Orbán has declared an emergency and his government has asked The Salvation Army to provide essential supplies and assistance as evacuations take place.
From 4pm on June 6, Salvation Army officers and volunteers began serving some 500 hot meals and drinks to workers who are constructing emergency flood protection measures on Margaret Island, in the city centre section of the river. As 300,000 sandbags are assembled on site, The Salvation Army has been working closely with disaster management professionals, water management experts, firefighters, soldiers and civilian volunteers.
Hot food is being prepared in The Salvation Army's Új Reménység Háza men's hostel in the city, and the relief effort is being bolstered by clients of the homeless shelter.
Although emergency disaster response assistance has been provided previously, this is the first time that the Hungarian government has officially requested Salvation Army help since its re-establishment in the country in 1990.
The authorities have asked that the Salvation Army team, co-ordinated by Captain Gábor Gazsó, remain at the scene at least until the river peaks. With further rain forecast, the situation is likely to be re-evaluated on Monday. Floods are also affecting the Gyõr-Moson-Sopron and Komárom-Esztergom areas of the country.
Regional Officer Major Andrew Morgan praised the quick and efficient response of the Budapest team and called for prayer support. He asks Salvationists and friends: "Pray that our responders would remain physically strong and spiritually alert as they minister in the name of our Lord Jesus Christ and on behalf of The Salvation Army."