General André Cox and Commissioner Silvia Cox (World President of Women's Ministries) were the guest leaders for the Australia Southern Territory's commissioning celebrations in Melbourne. They also led officers councils which included the launch of
The People's General
, a tribute book to Retired General Eva Burrows, at which the former international leader was present.
The cadets' covenant day took place on Thursday at Catherine Booth College. On Friday evening, a graduation celebration was held, during which the General presented the 26 cadets of the Disciples of the Cross Session with their International Certificates of Officership. He also presented awards and gave a graduation address.
Saturday saw the cadets gather with their families for the Fellowship of the Silver Star dinner, which included a devotional from Commissioner Cox. She encouraged parents of cadets by saying: "Trust God and obey him and he will take care of your children – I promise you that."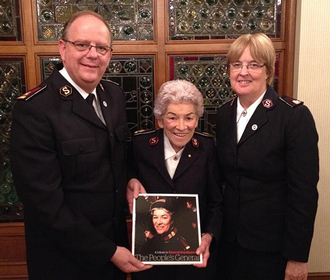 Later in the day the General and Commissioner Cox attended a territorial leaders' reception and, in the evening, a Christmas concert called Our Christmas Gift, which was attended not only by Salvationists but also by hundreds of members of the public.
On Sunday The Salvation Army descended en masse on Melbourne Town Hall for the Commissioning and Ordination meeting and the Appointments and Sending Out meeting.
At the commencement of proceedings, cadets of the Disciples of the Cross Session entered the hall silently and erected a cross at the centre of the platform that, once in place, was illuminated from within and shone throughout both services.
A moving segment in the first meeting was the ordination and commissioning ceremony. For each cadet the General announced his or her official ordination and commissioning and Commissioner Cox read a Scripture passage, before the cadet moved to the mercy seat for a time of prayer.
Later in the service Commissioner Cox provided a Bible message which focused on the significance of the cross. In response to the call that followed the message, many people moved to the mercy seat for commitment and recommitment – including the General.
The evening service was a time for celebration as the newly commissioned lieutenants were given their appointments and sent out to active service as Salvation Army officers. A video drama presentation was screened, including several cadets speaking on the challenging theme Will you Take Up the Cross? based on Matthew 16:24.
The General gave a stirring Bible message to the new officers and the congregation. In response to a call to service, more than two dozen people joined the General on the platform, indicating their interest in officership.
The closing song,
Storm the Forts of Darkness
, provided a victorious close to commissioning proceedings and included a joyous "hallellujah wind-up" march led by the General carrying the flag of the Australia Southern Territory.