"Mommy, they didn't say the magic word!" Five-year-old Noah Leslie was devastated. All that summer of 2009, he had diligently collected pennies to help a local charity in his home of Peterborough, Ont. He'd given up his allowance money, asked his chums and neighbours to help out, and his parents and grandparents had given their pocket change as well.
"He had collected $86 in pennies and was so pleased with what he had done," remembers his mother, Melissa. But in the hustle and bustle at the charity that morning—phones ringing, staff rushing around—his sum was forgotten.
"Noah didn't want a big fuss made; helping out was its own reward," says Melissa. "All he wanted was a simple thank you, nothing more—and he didn't even get that."
On a Mission
The week before Christmas, Noah happened to be passing through Lansdowne Place Mall with his parents when he saw The Salvation Army's Country 105/Energy 99.7 Toy Drive exhibit. Noah had never seen so many toys in one place in his life.
"What are all those toys doing there?" Noah asked his mother.
Melissa answered that caring people in Peterborough and elsewhere donated these toys to help out families in need at Christmastime.
"Santa brings you the presents on your wish list but there are moms and dads who can't afford presents and that's where The Salvation Army comes in."
Noah's eyes brightened. "Would they take my pennies next year?" he asked excitedly.
"I don't know," replied his mother. "But we can find out."
A Cupcake for Noah
Joanne Minaker, executive director of The Salvation Army's community services in Peterborough, takes up the story.
"At the end of November 2010, I received a telephone call from Noah's mother saying her son was collecting pennies and was interested in raising funds for our toy drive, and could he come in with the money on his birthday, December 13. I immediately replied, 'Of course!'
"A few days before Noah was scheduled to drop by, Melissa phoned me again," Joanne continues. "I was looking forward to the visit, but I really only expected perhaps $20 or $30 in pennies."
Joanne and the rest of the Salvation Army staff were speechless when Noah, accompanied by his parents, presented The Salvation Army with a cheque for $219.34.
"They arrived just as we were closing for the day," Joanne smiles. "I can tell you there were a few tears around the office when Noah presented the cheque. That this little boy thought so much of others who were without was touching."
Joanne had bought a birthday cupcake for Noah, and the staff presented him with it, topped with a candle.
"Noah was so sweet and polite," laughs Joanne. "He ate it all but then took me aside to whisper that he really, really, prefers chocolate."
Bigger, Better
Joanne thought Noah's actions that year were a one-off so she was surprised when Melissa contacted her in 2011 to say that Noah planned to raise funds for the toy drive again, but bigger and better than the year before.
A local radio station heard of Noah's fundraising campaign and aired his story, and a listener who worked at Scotiabank, Pat Moore, contacted the Leslies to help out. Local businesses offered their assistance and a Peterborough newspaper soon got involved. Noah had the idea to distribute empty water jugs to collect the pennies, and Pat volunteered to drop them off. Each week, after school and on the weekends, Noah and his parents made the rounds, collecting the coins and dutifully informing the participants how much they had raised the week before.
"Noah is thorough and determined," Melissa says proudly. "When he heard that The Salvation Army used Canadian Tire money to buy batteries for donated toys, he started collecting that as well."
December 13 rolled around and Noah presented himself punctually at The Salvation Army's offices.
"I expected a bit more than the year before—which would have been wonderful," Joanne says, "but Noah presented The Salvation Army with a cheque for $4,838.54, as well as $480.65 in Canadian Tire money."
Being Noah
Late last year, Melissa contacted Joanne again.
"Noah had been hard at work," Melissa states. "His teacher and schoolmates were helping, we distributed more than 30 water jugs to area businesses such as Staples and Dairy Queen and, thanks to the caring Scotiabank employee, Pat, three branches in the city offered to match contributions. We were kept hard at work rolling pennies and it had become quite the undertaking."
"It's a big job," Noah agrees.
So why does he do what he does?
"I've always told Noah that nothing is expected of him, that he's not obligated to do what he does," Melissa says.
"Every Christmas, I have toys under my tree," Noah replies, "and it's sad to know not every kid does. I'm doing it for the kids without presents under their trees. That's why I help."
In the meantime, Noah has become something of a local celebrity, to the extent that he is known as Peterborough's Penny Boy. In recognition of his efforts, he was awarded the Queen Elizabeth II Diamond Jubilee medal and some civic awards have followed.
"One parent came up to Noah one day and told him, 'My son wants to be just like you when he grows up,' " says Melissa.
Noah's tireless efforts in 2012 resulted in $12,937.14 being collected, with $489.66 of Canadian Tire money. Thanks to Noah and the hundreds of other people who donated gifts to the Peterborough Salvation Army's toy drive, 2,724 children had gifts under their Christmas trees.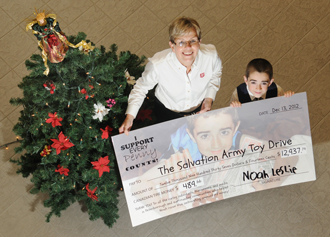 Record-Breaking Year?
This year, Noah has not been idle. Local businesses put out Noah's empty water jugs earlier than usual and he collected donations at the local Canada Day parade.
Not even the retirement of the penny this spring fazed him.
"Even when I collect nickels, I still want to be known as the Penny Boy, because that's how I got my start," Noah says.
"Noah told his mother not to tell me anything," says Joanne, "but he's determined that this year will be another record-breaker. And if I know Noah—and the caring people of Peterborough who support The Salvation Army—it will be."