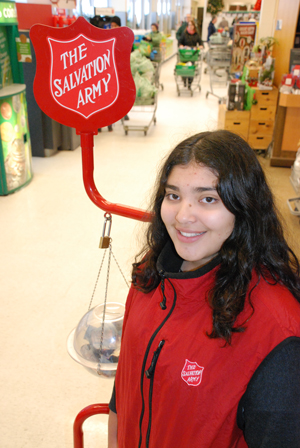 Contributions from donors throughout Canada helped The Salvation Army exceed its goal, setting a new record for the Christmas kettle campaign. In its 123rd year, the annual fundraiser collected over $21 million in donations, a two percent increase from 2012.
"Year after year, we are truly thankful for the support we receive from our partners, donors and volunteers," says Captain Les Marshall, public relations and development secretary. "This year, despite unprecedented weather that wreaked havoc across the nation, Canadians once again rose to the occasion, giving generously at more than 2,000 kettle locations from coast to coast."
Donors were also encouraged to support The Salvation Army online through fillthekettle.com, which allows individuals to host their own Christmas kettle online, and ask friends and family to give. Through the online tool, The Salvation Army raised close to $144,000.
Support for the kettle campaign also came from the Army's National Recycling Operations (NRO), which collected funds at Army thrift stores across Canada. The NRO nearly doubled its goal of $100,000, raising $174,000 for the campaign.
In addition to donations to Christmas kettles, The Salvation Army was supported by multiple partnerships with Canadian retailers. Walmart Canada hosted "Walmart Fill the Kettle Day," which saw Walmart Canada match donations to kettles at its stores up to a maximum of $50,000. Other national corporate partners included Loblaw Companies Limited, Costco, Canadian Tire, Sobeys and countless local retailers and shopping malls.