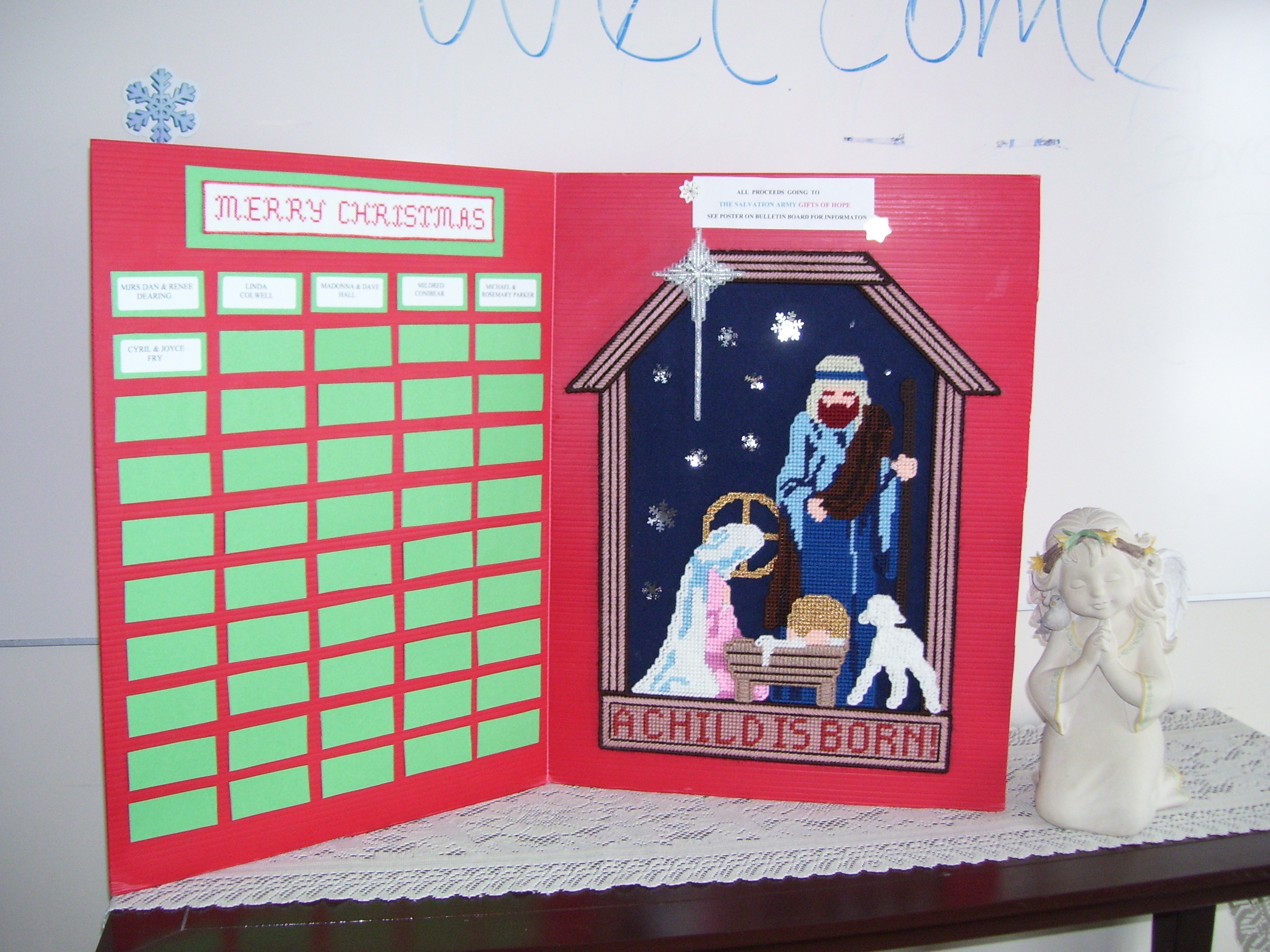 Written by Madonna Mayo Hall, Ottawa Citadel Corps Treasurer- February 21, 2014
MEMBERS OF OTTAWA CITADEL CORPS GREET THEIR CHURCH FRIENDS AT CHRISTMAS BY BRINGING REAL JOY!
In the early 1960's, Marjorie Byles, a member of Ottawa Citadel (now promoted to Glory), started a missionary group.  One activity of that group was to gather together food to be sent to a missionary place overseas.  Over time, the cost of sending such things overseas became too high to continue so they raised funds to send instead.
Marjorie decided that instead of spending money on Christmas cards, she would donate the money to the overseas project.  Florence McTier, another member of Ottawa Citadel (also promoted to Glory), had the thought that a symbolic Christmas card would be nice to use so she asked her friend Des Rive to create a Christmas card.  But, when the church moved from its location on Slater Street to its current location on Walkley Road, the card was damaged.
In the late 1970's, Marjorie resurrected the Christmas Card project and the idea took off!  Over the years money has been sent to Howard Hospital, Papua New Guinea, Germany to supply tables and chairs for Sunday School, Spain for Sunday School materials, South America to buy a refrigerator and lastly to Gifts of Hope.
The Christmas card itself is a huge red cardboard card.  Marjorie had received a needlepoint image of the nativity from a friend so she donated it to be attached to the large card.  From the first Sunday of December, this same card sits tall on a table in our foyer for everyone to see.  Donations come in through special envelopes in our Offering boxes imprinted with "Christmas Card".  A label is made for each person who makes a donation to the Christmas Card project which is then placed on the card.  This shows that greetings are sent to all members of the congregation.  By the end of the season we have approximately 45 names on the card.
It's not an exaggeration to say that our greetings enhance the lives of people not only in our own church but people in other countries.  What better greeting to give!
For the Christmas of 2013, we chose Gifts of Hope as the project at Ottawa Citadel.  The total amount raised was $1,281.20!
World Missions wants to congratulate Ottawa Citadel on their efforts toward Gifts of Hope!  These unique fundraisers are appreciated by The Salvation Army so we may help people receive the Gift of Hope at Christmas and through-out the year.  On behalf of the international communities, thank you!