Home to 431 Salvation Army corps, 110 schools and four hospitals, Zimbabwe is supported by the Canada and Bermuda Territory through the territorial world missions department and the Army's Partners in Mission Appeal. This March, Commissioner Brian Peddle, territorial commander, visited Zimbabwe to observe and support the Army's work there. In this blog, he shares his experiences.

March 9 (Sunday)
The Salvation Army's Tshelanyemba Hospital, Zimbabwe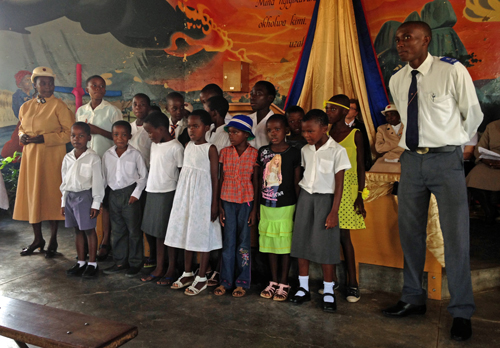 It was a relief to wake early and take in a panoramic view of our surroundings, which were hidden by the darkness last evening. The early dawn brought out more birds and unique sounds then I had heard in a while. The hospital grounds were active by 6 a.m. and I saw everything from the goat herder to the nurse heading to the wards and others preparing for the day ahead.
The day really began when we met the congregation at Tshelanyemba Corps for worship. They all came to the hospital chapel because the outdoor site had been messed up by heavy rain. Slowly, the corps assembled with welcomes, singing and dancing. The young people were front and centre and more than two hours later we said goodbye to new friends.
In the afternoon we shared briefly with the nursing students, soon to be graduates. They have been away from family for 18 months and are now looking to enter the workforce. This meeting took place in the dark as we had lost our electricity earlier. The flashlight came out and the generator kicked in mid-evening.
I dare not compare my world and theirs, but what is notable is an expression of joy that comes from faith and family lived out in community. Despite all that we have in our lives, I don't ever see smiles in my circles like the ones that impressed me today.
Can't wait for tomorrow: I get to spend time with our doctors at Tshelanyemba Hospital.
* * * *
March 10 (Monday)
The Salvation Army's Tshelanyemba Hospital, Zimbabwe
This morning, we gathered in the chapel with the staff of the Army's Tshelanyemba Hospital and I spoke to them these words from the Book of Joshua: be strong and courageous (see Joshua 1:9). I didn't know that I would see those things so clearly displayed throughout my visit at the hospital.
We began with a department heads meeting, led by our two doctors, Dr. Diya and Dr. Madomombe. They are two courageous women who, despite the challenges, lead the team to do much with little. Every report from the department heads reflected a shortage of supply: the pharmacy, the lab, the X-ray department and so on. While the waiting room fills to capacity, they prepare for a busy day.
I met seven-year-old Marvin who injured his arm while playing with his friends. He sat there with his arm in a sling waiting for his X-ray. The film was being processed in the X-ray room. It was taking longer than usual because it was a cloudy day and, normally, the sun speeds up the clarity of the negative. We came back later to find the fracture was a break and a separation of the bones. By now, Marvin will be sporting a cast and, I hope, is playing more carefully.
The maternity ward was busy. One woman was in labour and there were eight newborns in the aftercare ward. We stayed there for a while: if you spend time with one baby, you have to spend time with them all. In another part of the hospital there a number of moms-to-be who come two weeks before the birth and are watched over by the staff. Amazing!
I mentioned that this team does much with little resources. Across the whole spectrum of care there were missing pieces that we take for granted. I am certain of this: my small donation through world missions, when translated into the hands of people like those I met today, will make a difference well beyond my expectations .
We, too, are called to be strong and courageous. That courage was very much needed today as we travelled. The rain had been heavy and the water was creating rivers as it flowed across the red soil. We waited for two hours on our road for a river to pass by. We had no difficulty washing the under carriage of the van.
We arrived at Masiye Camp late and in the dark. I can't wait for morning light to see where I am and what tomorrow will bring.
There heroes everywhere. Meet our Doctors at Tshelanyemba Hospital. Dr Diya and Dr Madamombe pic.twitter.com/LyhHhontg1

— Brian Peddle (@bpeddle) March 10, 2014
* * * *
March 12 (Wednesday)
Harare, Zimbabwe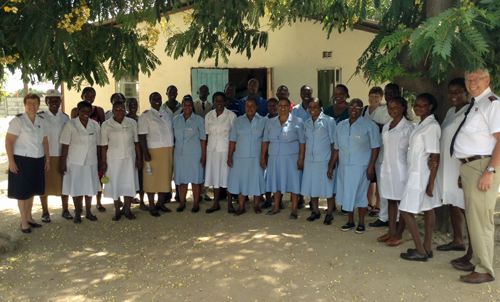 Waking up in Harare and anticipating a full day of visiting and seeing the Army at work, I felt especially excited this morning.
Our day began with a short visit to territorial headquarters and a reflection on our strategy with Commissioner Henry Nyagah, territorial commander. He leads the Zimbabwe Territory with 619 officers, 431 corps, 123,346 soldiers and a number of social service centres and schools.
At midday we arrived at Bumhudzo Hospital Home. The name comes from a Shona word meaning "resting place." It has two stages of care for older persons who are destitute. Many of them are from neighbouring countries but, while living in Zimbabwe and working in the fields as labourers, they have grown old; they have no home or family. In this setting they are loved and provided for by a great staff and team of volunteers. I have seen joy where I did not expect it many times, but this day was one that held a special reward for us.
At the end of the day, we were on the road again, making the one-hour drive to The Salvation Army's Howard Hospital, where many Canadians have served and volunteered. More than just a hospital, the site also includes a nurses' training centre, a primary school and a high school, as well as a vibrant corps. The anticipation surrounding our visit was evident as we entered through the gate; though the official visit does not begin until tomorrow, the warmth of the people was in full force tonight. I was told that they have been preparing all week by cutting the grass and putting their best foot forward in every way. I can't wait to hear the children's school choir and there is a rumour that there will be a display of traditional African dance. I'm looking forward to an exciting day tomorrow.
* * * *
March 13 (Thursday)
Howard Hospital, Zimbabwe
By the time we finished morning prayers with the nursing staff at 7:30 a.m. and experienced the heads of department handover meeting, the hospital was crowded with outpatients, adding to those who we already in the care of the Howard Hospital team. To me, it seemed like a daunting task, and when I asked, "Will you be able to see all these people today?" it was pointed out to me that the staff never go home until all the patients are seen. If the need required it, the doctor would see them.
In the middle of all this, there were specific sections that dealt with child immunization, HIV-AIDS treatment and a tuberculosis clinic. I was asked at the end of  the day what impressed me most. I admit to stumbling as a flood of images raced through my mind.
First, there were the two separate schools, a nursing school and a school for midwives--over 40 students who upon graduation will be available to serve the whole country. I am quickly understanding that Howard Hospital is a gift to Zimbabwe.
Second, there was a clear focus on bringing healthy children into the world. We were guided through the facilities where there were dozens of women waiting for the process to begin, to a place where eight women were about to deliver, to a ward where moms were learning about postnatal care for three days before taking their little one home. It impressed me that all of this happens every day, and a whole community of people is participating in the gift of life.
The day was not without its challenges. There is real concern about an outbreak of malaria, which claimed a young child's life and threatens a pregnant woman. I will pray for God's grace for these families tonight.
Third, there was a visit to Howard High School where 820 students excel in decorum and the pursuit of their education. I was overwhelmed as all 820 sang for us and then blessed as the choir sang their song. The back-to-school journey continued as we moved to the primary school, which has 1,220 students. Can you believe this? They stayed after school so we could meet them and see them perform a traditional African dance. Outstanding!
Everything I have seen and written about is guided by The Salvation Army in Zimbabwe. I am proud to call these people colleagues and brothers and sisters. No one can deny the impact that is made on the lives of hundreds every day. God bless The Salvation Army in Zimbabwe.
* * * *
March 14 (Friday)
Howard Hospital, Zimbabwe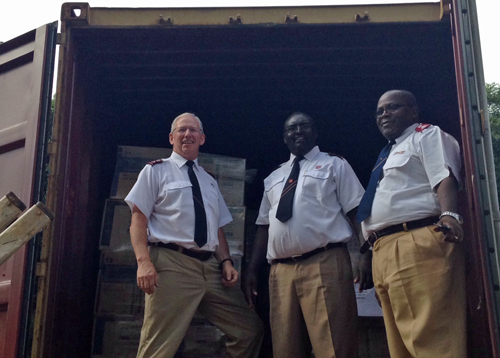 Nothing that I write could capture this exciting day at Howard Hospital. Today marked the arrival of a long-awaited container from Canada and a truck carrying poles and electrical supplies for a project sponsored by the Canada and Bermuda Territory. Watching the staff and Howard family hold their breath as the territorial commander from Canada and Bermuda and the territorial commander from Zimbabwe pried open the doors to cheers and applause was a personal treat. I think this is what the phrase "being in the right place at the right time" really means. Thank God for the generosity of friends all across Canada and Bermuda. I am more convinced than ever that our Partners in Mission program really works.
Again today we were inspired by a hard-working staff that delivers care to a catchment of 250,000 people. When I visited with the local headman, I heard praise for past Howard Hospital leaders Major Jim Watt and Dr. Paul Thistle and for continuing Canadian support. We were welcomed and appreciated by community leaders. The headman also noted challenges expected in the future and hoped Canada would continue to offer support. With your help, we can.
In November 2014, Howard Hospital will move to a new home. I was very impressed with the new complex and the possibilities it holds for the future. Dr. Peter Lindgren from Sweden is overseeing the project.
We finished the day with a chapel service. The nurses sang songs of hope and joy, and we heard testimonies of faith and courage and celebrated the fact that Howard Hospital is in God's hands.
At the same time, the malaria outbreak has brought more cases and the waiting rooms at Howard are full. I have lost track of how many babies have been welcomed since I arrived. I have never stayed at a hospital overnight, but this time at Howard has been a great blessing. I have new confidence in the leadership here and the future of Howard.
* * * *
March 16 (Sunday)
Harare, Zimbabwe
Before we left Howard Hospital, we were encouraged to check out two projects made possible by Canada and overseen by the team at Howard. I have been surprised by the scope of Howard. Of course, the hospital responds very well to needs of more than 250,000 people in its catchment area, but it also has a chicken project that helps feed the patients and a cattle project that sustains a number of families. These are amazing spinoffs that underscore the hospital's ability to impact so many.
After leaving Howard, we were on our way back to Harare with a stop at Mazowe Boys' High School. This a Salvation Army school that aims high educationally and has great aspirations to train young men to lead the country. We were blessed by their choir and the welcome we received. (We were a little late because our vehicle got stuck in the mud. The school truck had to come and pull us out.)
On Sunday--our last full day in Zimbabwe--the team split up and shared at two corps. We were at Harare Citadel with a packed and overflowing hall of more than 600. The enthusiasm, the singing, the youth and the warmth of welcome can't be captured in words. I wish you could have been there. When the appeal was given, the little space at the front was filled and my eyes witnessed something for the first time: I am sure the whole congregation stood and simply knelt at their chairs. Following the appeal, a woman was introduced as having accepted the Lord.
Zimbabwe and its people have created much joy and blessing for our team. Next year, our Partners in Mission Appeal will feature many of their stories. This beautiful country of 13 million people take pride in who they are as they fill a small space surrounded by South Africa, Botswana, Zambia and Mozambique. Seventy percent of the population speak Shona, but speaking English is not a problem. They often face drought and hardship with crops, but this season is good and there is hope. As the Canada and Bermuda Territory partners with Zimbabwe, we are given a unique privilege simply to help others. It is about coming alongside and meeting needs in very practical ways. You can do your part by taking an active role in
Partners in Mission
even now. Give out of a comparative abundance and give sacrificially.
Thank you. God bless you and God bless Zimbabwe.