More than 60 delegates from across The Salvation Army's Canada and Bermuda Territory will descend upon territorial headquarters in Toronto next week for a special business leaders' conference. The three-day event will bring together divisional secretaries for business administration and divisional finance secretaries, as well as human resources personnel.
The theme of the conference is Forward in Faith, reflecting The Salvation Army's focus on mission as the centre of all its operations.
"It is our hope that this conference will reiterate a biblically informed understanding of how business is a part of God's business in the world," says Colonel Mark Tillsley, chief secretary. There should be no divide between the on-the-ground ministry of the corps and behind-the-scenes work of the business administrators, Colonel Tillsley adds. "All of life is part of God's creation and God cares about the stewardship of his world."
Lt-Colonel Lee Graves, territorial secretary for business administration, hopes that the conference will "build a strong sense of team across the territory and make sure that we're all moving in the same direction and understanding each other.
"This event signals that we highly value our leaders across the country," he continues, "and that there's a real desire within the administration to engage in the kind of conversation that honours and respects and is prepared to not operate in isolation from a distance. We want to be engaged at the regional level so that we can truly understand the cultural diversity in our territory and the various challenges that are unique to some areas, and then collectively find strength in moving forward together."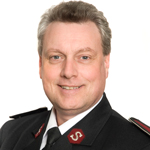 The conference will feature seminars and discussions on a variety of topics in the areas of finance, property, information technology, National Recycling Operations, legal issues, human resources and sustainability. Lt-Colonel Graves hopes it will be a time of "listening and learning together," while examining challenges and identifying possible solutions.
"What are some of the creative and innovative things that we need to begin doing? Collectively, we can brainstorm around that," he adds.
"Salvationists can be encouraged knowing that conversations are taking place that are intended to identify critical issues in the territory," concludes Lt-Colonel Graves. "This conference is about ensuring that we have a strong organization going forward that can bring strength to the ground-level and to local Salvationists."