On June 19, territorial headquarters welcomed General André and Commissioner Silvia Cox for a staff reception and devotional meeting.
In greeting the international leaders, Commissioner Brian Peddle, territorial commander, described the "tingles" he felt just a day before when the General received spontaneous applause from English as a Second Language students at Toronto Harbour Light, an expression of our territory's great diversity.
The General also highlighted the tour of front-line Army facilities, noting the abundance of salvation stories that stem from the Army's social ministry. In particular, he mentioned Gateway Linens, a social enterprise program that helps those experiencing homelessness get back on their feet.
During the meeting, Major Keith Pike, territorial youth secretary, presented General and Commissioner Cox with Salvation Army Generals hockey jerseys to the delight of the crowd.
In his message, the General emphasized the importance of prayer. "We must never think that we are big enough to do it alone," he remarked. "We rely on God. Prayer must be uppermost. It is the vital force of the Army."
He encouraged those present to pray for three things:
First, he stressed the international Boundless Congress in London, England, next year, where Salvationists will gather "not simply to celebrate the past, but to ask what God wants of us now and in the future."
Second, the General called for prayer for Army young people. "We need youthful input," he said. "If we cannot pass on our faith to the next generation, then we've failed."
Lastly, he urged Salvationists not to lose their joy in the Lord.
In her reflection, Commissioner Silvia Cox commented on a secular article she read about steps to a long, happy life. She was pleased to see that going to church and joining a choir―"You forget your worries when you praise the Lord"―were on the list. But she also noted there is no substitute for deepening one's relationship with Christ as the source of true happiness.
Headquarters staff concluded with the song and promise
I'll Go in the Strength of the Lord
, as they prepared for the Territorial Congress to be held in Mississauga, Ont., this weekend.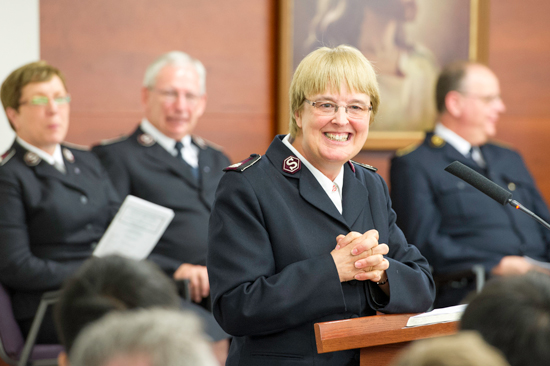 Honoured to meet John who testifies to a life transformed by God through the Harbour Light ministry in Toronto. Amen! pic.twitter.com/XGGD2ZFNwH

— General André Cox (@GeneralAndreCox) June 18, 2014
Great to chat with people from many nations gathering together, and being taught and equipped, at The Harbour Light. pic.twitter.com/0OC15IYK03

— General André Cox (@GeneralAndreCox) June 18, 2014