On June 21, the cadets of the Disciples of the Cross Session will be commissioned and ordained as Salvation Army officers with the rank of lieutenant. After nearly two years of intensive training through the College for Officer Training (CFOT) in Winnipeg, these 17 Salvationists are now preparing for their first appointments.
Photos by Carson Samson.
---
Cadet Sarah Braye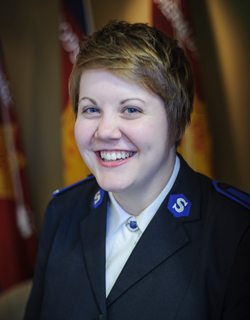 I am a fourth-generation Salvationist and now a third-generation officer. I have always had a deep desire to make a difference. During my first year of training, I had the joy of attending Weetamah, an inner-city corps in Winnipeg. It completely changed my life. I witnessed love and acceptance as I had never experienced anywhere else. In 2 Corinthians 5:17, the Apostle Paul speaks of becoming a new creation in Christ; while attending services and participating in field activities, I experienced the transforming power of God's love and saw it in others, too.
Appointed to Saint John Hope Community Church, N.B.
---
Cadet Juan Chirinos
I became a Christian when I was 11 years old and, since then, my desire has been to live a life that pleases God. In 2002, God began to awaken in me a passion for ministry and I felt the call to officership. However, at the time I was not able to speak English or French. God used my time in Montreal to prepare me for this calling, while I learned to speak these languages. As I begin the journey of officership, together with my wife and children, "I press on toward the goal to win the prize for which God has called me heavenward in Christ Jesus" (Philippians 3:14).
Cadet Indira Albert
I was born in Venezuela and when I came to Canada I started attending Montreal Citadel with my family. I was involved in many different ministries, and felt God calling me to full-time ministry for a long time. Though I initially ignored the call, God showed me through a vision that I was to come to CFOT, and I surrendered my all to him. I look forward to proclaiming the good news of salvation, extending God's kingdom and ministering to people through The Salvation Army.
Appointed to Église communautaire de l'Outaouais, Gatineau, Que.
---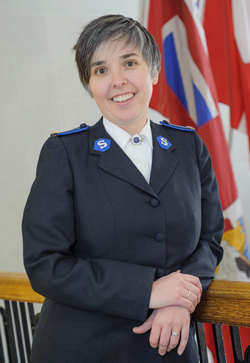 Cadet Shawna Goulding
Throughout training I have been privileged to walk alongside many people in their life journey. As I heard stories of joy and pain, I was humbled to be given such opportunities to be God's representative. There have been many times when I have questioned my ability, but I have always been reminded that it was God who called me here. God is greater than any imperfections that I might have, and I am thankful that he is using me to serve those in his kingdom. In whatever lies ahead, I strive not only to talk about the gospel, but to be in on it.
Appointed to The Salvation Army, A Community Church, Prince Albert, Sask.
---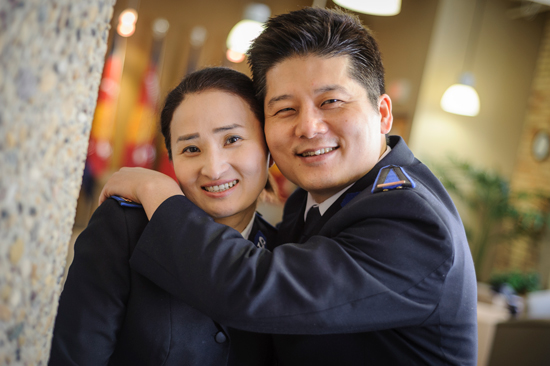 Cadet Dae-Gun Kim
My two years at CFOT have been an amazing journey that has filled me with great joy and God's grace. Without the support and prayer of friends and the staff and officers at CFOT, I do not think that I would have been able to make it through this adventure. As I leave for my first appointment, I take with me William Booth's words to his son, Bramwell: "These are our people; these are the people I want you to live for and bring to Christ."
Cadet Aejin Jeong
It has been a privilege to share my journey toward officership with my fellow cadets and the officers and staff at CFOT. For the past two years, God has transformed my heart to become more vulnerable and open, and has equipped me to serve his people. Now I am confident that God has called me to serve the needy with the heart of Jesus. Through my work in various ministries to the community, I have discovered that even my smallest act can make a big difference.
Appointed to Melfort—Circuit with Nipawin and The Salvation Army Church (Tisdale), Sask.
---
Cadet Ryan MacDonald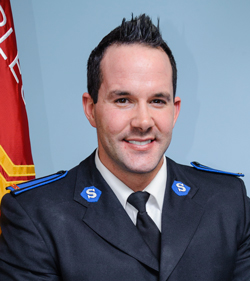 During my time at CFOT, I had dinner with a client that I met at one of my placements. This man had just lost his mother, he had few material possessions and he struggled with mental illness. But he never complained about the misfortune he had endured. To see the joy that existed in that man's heart humbled me immensely. The most important thing I have learned is to keep God first in everything that I do. Every time he does not come first, I end up finishing last.
Appointed to Fort Frances, Ont.
---
Cadet Norman Porter
As a child, I was adopted by a Salvation Army family who taught me about God and the importance of serving Jesus through my local corps. I felt the call to officership so strongly that, in 2008, I travelled to Winnipeg for a candidates' weekend where my life was changed forever. Not only was my calling confirmed, but I also met my wife, Crystal. In June 2010, we became ministry directors of Buchans Corps, N.L., and spent two amazing years there as corps leaders. During my time at CFOT, God has shown me that when I trust him he will never fail me. He goes before me and he has my back.
Cadet Crystal Porter
When I was a young child, my grandmother brought me to a little Salvation Army corps in Green's Harbour, N.L. It was there that my faith was formed, and I began to realize God's great love for me and other people. While at CFOT, I have been blessed to see the amazing way that God works. Whether in Tanzania, rural Manitoba, Comox Valley, B.C., or elsewhere, God has revealed his faithfulness. I have drawn closer to God and he has reaffirmed his provision in my life.
Appointed to Labrador City/Wabush, N.L.
---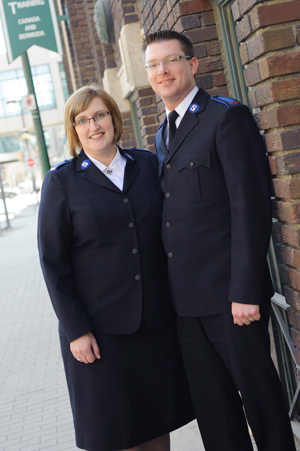 Cadet Devin Reid
I will never forget the wonderful conversations I had with a woman in palliative care during one of my placements. She was so firm in her faith that after each visit I felt that I was the one who was ministered to. Through these and other conversations I have come to know what an exceptional privilege and blessing it is to share in people's lives through ministry. As an officer, I look forward to getting my boots on the ground and putting what I've learned into action.
Cadet Laurie Reid
I was called to officership when I was 14, but like Moses, I used every excuse to run away from God's will. When I couldn't deny my calling any longer, I left my job working with a physician to work for the Great Physician. At CFOT, I have learned to never say never. Though I may think I am not capable of doing what I am called to do, I know God will equip me with the skills I need. His love and his grace never fail.
Appointed to The Salvation Army Faith & Hope Corps, Marystown, N.L.
---
Cadet Daniel Rowe
My most memorable experience during my time at CFOT was when my wife, Bhreagh, and I were given the opportunity to spend part of our summer assignment on international service in the Germany, Poland and Lithuania Territory. Given that I didn't know the German language, I learned the importance of living the Word of God and not just speaking it. But the most important thing I learned during my training was to be myself. God has called Daniel as Daniel, and I am so honoured to accept this call.
Cadet Bhreagh Rowe
I did not grow up in The Salvation Army, but when I was introduced to it, I instantly fell in love with the people, the mission and the message. Spending five weeks in Germany as part of my summer assignment was a surprising and transformative experience. Having to live incarnationally and have complete faith in God helped me grow as a person and a future leader. I have learned to be who God made me to be and not to sweat the small stuff. God will give me what I need to get through each day.
Appointed to Truro, N.S.
---
Cadet Randy Shears
I have always felt a yearning to serve God through ministry in The Salvation Army. Over the years, I have worked with young people, adults and seniors, and I have been blessed whenever I have had the chance to share my faith and to experience theirs. God has provided me with a beautiful Christian wife, Cathy, who has the same desire for ministry. As an officer, I look forward to having the opportunity to serve God by serving others, with her by my side.
Cadet Cathy Shears
I felt called to be an officer at a young age, and through various corps leadership roles and my work with The Salvation Army's family services in Ontario and Nova Scotia, that calling was reinforced. After attending a congress in St. John's, N.L., I felt God's call once again, even though I was preparing for retirement. During my summer placement in Fort McMurray, Alta., I met many beautiful people who made a lasting impression on my life. These are friendships that I will treasure forever.
Appointed to Englee, N.L.
---
Cadet Sharon Tidd
When God first called me into pastoral ministries I resisted out of fear. But over a 25-year career with The Salvation Army in various roles, he equipped me and gave me the confidence to accept this calling through the Field-Based Tailored Training program. As corps leader at New Westminster Citadel, B.C., I have appreciated the opportunity to preach and teach the gospel and see people move forward in their faith. As an officer, I hope to continue to meet the spiritual and practical needs of the beautiful people I serve, in both our congregational and community ministries.
Appointed to New Westminster Citadel, B.C.
---
Cadet Mark Young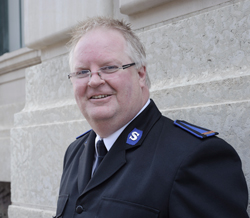 Over the years, I have had a strong sense that God has called me to full-time ministry. That calling has taken me many places: to minister in other cultures, to teach at Booth University College and to serve as corps leader at Weetamah Corps, where I have been involved with street-gang ministry, community capacity building, fire chaplaincy and more. Officership is the culmination of all that God has called me to in ministry. I look forward to serving Christ wherever he leads me in the future in the service of The Salvation Army.
Appointed to Weetamah,Winnipeg
---
The Principal's Commendation
At the territorial congress this month, I will be pleased to introduce the cadets of the Disciples of the Cross Session to the territorial commander and to all those present. These cadets will then be ordained as ministers of the gospel and commissioned as Salvation Army officers. What a blessed event that will be! It will also be a marker in the ongoing journey of their training and ministry. Many corps across the territory will be privileged to have these new officers as their corps officers. I highly recommend them all.
These men and women have been fully engaged in the training program of CFOT, where we strive to "prepare, develop and inspire them in character and competency for officership." It has been a great privilege for the officers and employees at CFOT to witness their transformation as God continues to call and equip these disciples. My prayer for each one is that they will know the promise that "he who began a good work in you will carry it on to completion until the day of Christ Jesus" (Philippians 1:6).
Major Jamie Braund
Principal, CFOT
Created with
Admarket's
flickrSLiDR
.