More than 150 officers and soldiers lost their lives on May 29, 1914, when the Empress of Ireland was struck by a Norwegian collier in the St. Lawrence River. With more than 1,000 lives lost, the sinking is the worst peacetime maritime disaster in Canada's history. To commemorate the sinking and remember the lives lost, The Salvation Army participated in 100th anniversary events in Toronto and Rimouski, Que., this May.

Salvationists and friends gathered at Mount Pleasant Cemetery in Toronto, where the memorial service featured music by the Canadian Staff Band (CSB), led by Bandmaster John Lam. A good crowd was present, including visitors and descendants of some of the victims who had travelled from England and the United States.




Led by Colonel Mark Tillsley, chief secretary, and members of the territorial cabinet, the service included songs and Scripture readings appropriate to the occasion. Staff Bandsman Steve Pavey spoke of his own experience in researching the story for his historical novel Pursuit of Grace Aboard the Empress of Ireland. In retelling the tale, he cited specific examples of Salvationists who lived up to their Christian calling on that dreadful night and the impact their witness had on generations to come.

Commissioner Brian Peddle, territorial commander, spoke of the legacy of those who perished on that fateful night, recalling the impact their deaths had on the young Salvation Army in Canada, and why it is important to keep their memory alive. Appropriately, the CSB presented an arrangement of the last song their 1914 predecessors played while the great ship pulled away from Quebec City, God Be With You Till We Meet Again.

In addition to the Toronto service, Colonels Mark and Sharon Tillsley and an ensemble from the CSB visited Rimouski from May 29 to June 1 for services commemorating the disaster. Rimouski is the nearest community to where the great ship went down, and many of the city's inhabitants aided victims of the tragedy.

Numerous descendants gathered with visitors from across Canada and around the world to remember the sinking. Events included the unveiling of a new work of art at the Empress of Ireland Museum and a memorial service for Canadian Pacific, the company that owned the ship. There was also a special Salvation Army reception organized by Major Brian Venables, divisional commander, Quebec Division, for both descendants of victims and the general public. Pavey gave a presentation on the history of the Empress and Major David Ivany, a descendant of one of the original staff bandsmen, gave his own family tribute. On Sunday, the CSB ensemble provided music for a mass at the local Roman Catholic Church before heading home to Toronto.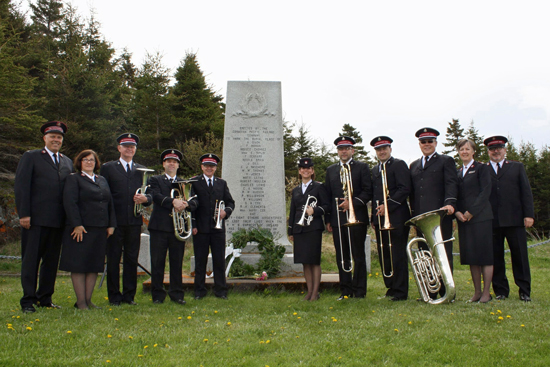 Below: Members of the Canadian Staff Band play This Is My Father's World at a commemorative mass for victims at Sainte-Luce Roman Catholic church