"We gather under the banner 'Mission Matters Most to The Salvation Army in the Canada and Bermuda Territory!' " said Commissioner Brian Peddle, territorial commander, as he welcomed the thousands gathered at the Hershey Centre in Mississauga, Ont., for an evening of praise and worship on Saturday, June 21. He explained the purpose of the event was to highlight and celebrate the exciting things happening on the front lines of ministry throughout the territory, in particular the programs and services made possible through the Territorial Mission Focus Fund.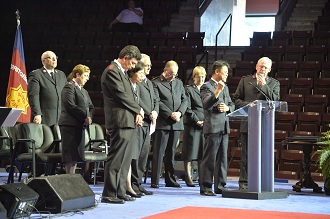 Emphasizing the diversity of the territory, prayers were offered in Spanish, Korean, Laotian and French.
A variety of groups contributed to the enthusiasm of the evening's celebrations, including the Ontario Great Lakes Divisional Youth Chorus, a choral presentation directed by Lieutenant Jennifer Ivany (Surrey Community Church, British Columbia Division), a video highlighting the growing children's ministries at Kentville Community Church, Nova Scotia (Maritime Division), a time of enthusiastic worship led by the St. John's Temple Worship Team (Newfoundland and Labrador Division) and a liturgical dance by Patreese Simmons (Bermuda Division).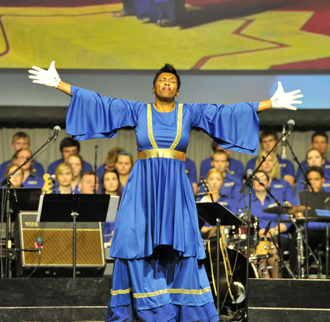 A musical highlight of the evening was Toronto's North York Temple Band (Ontario Central-East Division), accompanied by the London Citadel Timbrels (Ontario Great Lakes Division), as they presented Salvationist Marcus Venables'
Abundance
. Later in the evening, the band received a standing ovation for
Everywhere
, also composed by Venables.
A number of special awards were bestowed by General André Cox, including the General's Award to Diane Best, Exceptional Service Awards to Colonels Robert and Marguerite Ward for their years of international service, and Exceptional Service Awards to Colonels Robert and Gwenyth Redhead for their years of service to the Army's music and gospel arts programs.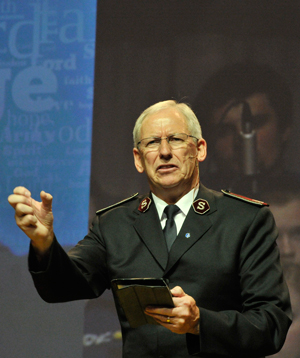 Speaking from 2 Chronicles, Commissioner Peddle gave his thoughts on why Mission Matters Most and encouraged the congregation to be actively engaged in God's work. "Be Salvationists who are willing to find their place in the mission of the church!" he said. He shared that the most miraculous stories of transformation he has heard travelling across the territory have not come about because of any calculated plans but because people have taken the time to be involved in the lives of others and shared Christ with them. "Mission has nothing to do with the territory needing to improve its statistics or keeping up with other denominations. It's about the fact that people need the Lord."
In the closing moments of the evening, vocal soloist Cameron Rawlins presented a moving rendition of
O Church Arise
, inspiring the congregation to rise up and join in God's redeeming mission for the world. The auditorium was then filled with the joyful singing of
I'll Go in the Strength of the Lord
as the General waved the Army's flag to the delight of the crowd. Lt-Colonel Junior Hynes, territorial secretary for program services, closed the meeting in prayer.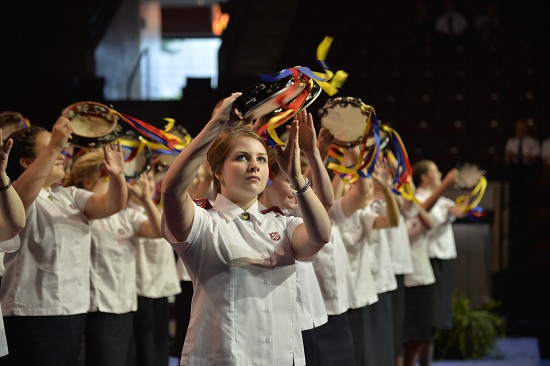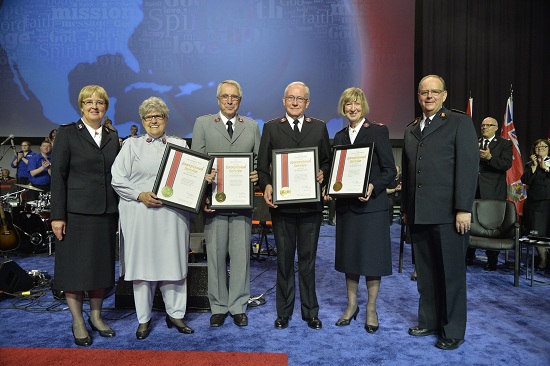 Read more about Territorial Congress 2014: http://salvationist.ca/tag/territorial-congress-2014/
Watch the Mission Matters Most meeting below: