More than 500 delegates gathered to pray for spiritual renewal, the mission and the message of The Salvation Army at a prayer breakfast at territorial congress on Saturday. Commissioner Silvia Cox, World President of Women's Ministries, spoke about the power of individual and collective prayer, the assurance of God's presence and the need to persevere. She reminded delegates that prayer is a two-way conversation: we need to listen as well as speak. And she emphasized that prayer is essential for mission.
"Missing prayer is like a missing stitch in a fisherman's net—the fish will slip through," Commissioner Cox said. "But with prayer, the fish will be there."
Major Wanda Vincent, divisional director of women's ministries, Ontario Great Lakes Division, led the delegates in praying at their tables for territorial priorities based on the Army's international vision statement. "Help us be examples of how Christ can change a life," prayed Major Sandra Foster.
The breakfast concluded with a prayer of thanksgiving and trust by Major Cavell Loveless, assistant executive director, Booth Centre, St. Catharines, Ont. "Send us out empowered by your Spirit to be your witnesses," she said. "Give us faith for greater things."
Comr Silvia Cox: We are invited to bring everything to God in prayer...we have the promise that God will listen pic.twitter.com/xyBX5lgpe5

— Salvationist.ca (@Salvationist) June 21, 2014
Precious moments of praise and intercession during our prayer meeting this morning. Check out Philippians 4:6 today! pic.twitter.com/ginsy3NyLO

— General André Cox (@GeneralAndreCox) June 21, 2014
Delegates Inspired by Range of Workshops
Following the prayer breakfast, 10 workshops were held on Saturday morning, covering topics such as evangelism, human trafficking, women in leadership and music.
The workshop on human trafficking began with a video of Miriam, a woman who fled persecution only to be held captive and exploited for four years by those who had promised to help her. Human trafficking has been called modern slavery. Diana Bussey, social services consultant on human trafficking, spoke about The Salvation Army's response to this issue. "Whether we recognize them or not, trafficked people are already using our services," she said.
Major Danielle Strickland, corps officer, Edmonton Crossroads Community Church, spoke about evangelism in a post-modern world, where truth is seen as relative, and offered four approaches that can help us share the good news:


Share your testimony – how did you encounter Jesus, and what difference has it made in your life?


Listen and answer questions


Cultivate authentic relationships, rather than seeing people as projects;


Prayer


She reminded the delegates that to present Jesus, we need to know him.
Colonel Mark Tillsley spoke on the topic of spiritual passion in ministry. A competitive, critical, vain or adversarial spirit can destroy our passion, he noted. We need safe places, still times and friends to restore our passion. "The greatest danger to our spiritual health is loneliness," Colonel Tillsley said. "Friends are absolutely essential to nurture passion in ministry."
Shawn spoke about the ministry of his church in a neighbourhood in Toronto that has been described as "Canada, 20 years ahead of schedule." It has a very high concentration of immigrants and refugees Shawn's church reaches out to this neighbourhood with the good news of Jesus.
Commissioner Rosalie Peddle moderated a panel discussion on women in leadership, offering this advice to aspiring leaders:


Be a deep listener


Pay attention to what you're doing wrong


Be your authentic self


Ask questions


Be humble;


Embrace the fact that you don't have all the answers;


Real leadership is about service, about dying to self and loving others into their true potential.


"What I found helpful about this workshop was the idea that leadership begins with character and integrity," said Captain Julia Butler, divisional youth secretary, Newfoundland and Labrador Division, who has been an officer for 11 years. "Our gifts and abilities are to be celebrated, but character and integrity are what's important for our gifts to be effective. And effective leadership is effective leadership--it doesn't matter if you're a man or a woman. This session was an affirmation for me to be the best I can be, and be confident."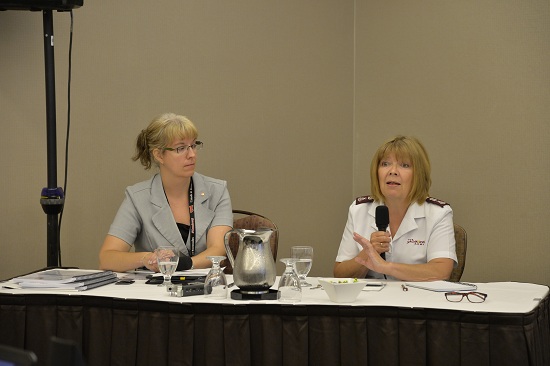 A Challenge for Candidates
After the workshops concluded, General André Cox brought a challenge to men and women who feel called to officership at the candidates' fellowship luncheon. Seventeen of 20 accepted candidates were present, along with many others seeking God's direction for their lives.
The General emphasized that though theological education, compassion and administrative ability are important, none of them are enough. "Remember David. Samuel thought Eliab looked like a king, but the Lord looks at the heart," he said. "Character is about our inner life, our heart. We can be gifted, but if our character is flawed, we will fail."
He also encouraged the candidates to be themselves. "We are all made differently," the General said. "Don't compare yourself to others. Reflect what God has given you, and bring that to your ministry. The world needs to see people who have encountered the risen Christ and experienced transformation."
Candidate Stories: Ducer Kamgang and Odile Kwemo-Kamgang
Ducer Kamgang and Odile Kwemo-Kamgang came to Canada from Cameroon in 2003. "I chose The Salvation Army because I was in agreement with the mission—works as a practical expression of love," says Odile.
"In Cameroon, we worked for people, but [with that organization] it was without Jesus," says Ducer. "Now, we do works with love, with the Spirit of God, helping people to reconcile with God."
Ducer and Odile are local officers at a French corps in Quebec where more than 16 nations are represented. They are praying and waiting for the opportunity to become officers. "We are expecting God to guide us for that decision for our life. We need his direction," says Ducer.
Candidate Stories: Luis Fernando Gamero and Yamillet Corea
Luis Fernando Gamero and Yamillet Corea came to Canada from Honduras as refugees in 2013. They went to The Salvation Army's family services in Montreal in search of settlement help, but found a spiritual home. Luis Fernando says that when he met Louise Fernandez, the immigrant and refugee services program coordinator, "We spent 10 minutes talking about how to get a driver's license, how to get established, and three hours talking about spiritual things. I felt like I found a sister in Christ."
Luis Fernando and Yamillet felt God's call to ministry before coming to Canada. In Honduras, they had a small store. "People were coming not to buy something, but to open their heart to Yamillet," says Luis Fernando.
"My challenge is to study the Bible to have the best response to every need people shared with me," Yamillet says.
They attend Montreal Citadel, where Luis Fernando helps with the translation ministry and Yamillet teaches Sunday school. They are helping to plant a Spanish-speaking church in Brossard, Que.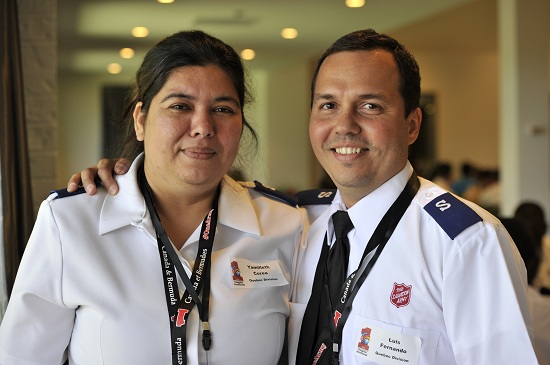 Read more about Territorial Congress 2014: http://salvationist.ca/tag/territorial-congress-2014/