On Sunday, November 16, approximately 80 members of The Salvation Army braved the cold and snow to take part in the 110th annual Toronto Santa Claus Parade. Thousands of individuals and families lined city streets, cheering and singing, awaiting Santa's big arrival.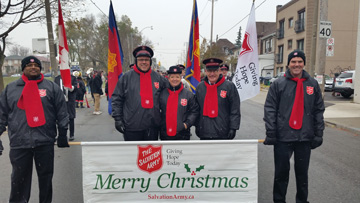 This was a wonderful opportunity for The Salvation Army to go out into the community where we serve and engage with our neighbours.
"It was a privilege to be involved with the Santa Claus Parade in Toronto. We marched along the crowded streets as the sounds of Christmas filled the air. It was a special day of laughter and joy. Smiles and excitement took centre stage, where our city came together as one, with the hope of things to come," says Major Les Marshall, Territorial Public Relations and Development Secretary.
Accompanied by the Canadian Staff Band, the Ontario Central-East Divisional Youth Band and a massed timbrel brigade, The Salvation Army marched the 5 km parade route, waving to excited onlookers and spreading holiday cheer.