Despite the frigid temperature, hundreds descended on Oshawa Temple, Ont., for the annual Young People's Music Festival on February 21. Ten young people's bands, eight choirs and one timbrel brigade from corps in the central-east part of the Ontario Central-East Division played musical selections to the delight of a packed sanctuary.
Guests for the afternoon included Marcus Venables, who led the massed band in his own arrangement of
Lord Reign in Me
, and Cameron Rawlins, who composed
Soon
, a massed choir piece, for the occasion.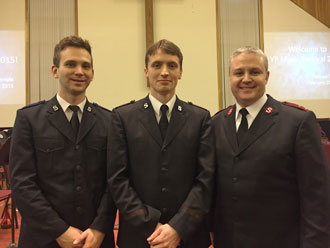 Matt Trottier, youth leader at Hope Community Church in Pickering, Ont., shared a devotional, engaging kids with moulding clay to illustrate how God made us and names us as his own. The event was presided over by Captain Simon Downey, divisional youth secretary, who emphasized how God was working in the lives of youth across the division through local music programming and camps.
Other highlights included
Oye!
, a selection by Cedarbrae's Joyful Noise choir that included rhythmic drumming on plastic barrels and Spanish lyrics. Yorkminster Citadel timbrels were a hit with their take on
Deeds of Valour
by composer Bramwell Coles. Many of the participants also came together for the Divisional Singing Company and Divisional Young People's Band, including a triple duet of
All That I Am
with cornets and trombones.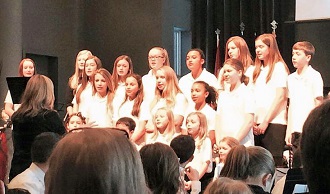 On February 28, a second YP Music Festival was held at Etobicoke Temple, encompassing corps from the western half of the division. Two young people's bands, eight singing companies and two timbrel brigades participated, supported by the Divisional Youth Band and Divisional Youth Chorus.
A highlight of the event was a devotional from Jennifer Hibbs, youth director at York Community Church, who shared about trusting God, using an illustration that involved poking holes on a bag full of water over a child's head.
In total, more than 600 young musicians participated in the two festivals. A third festival will take place in May in Kingston, Ont., for the eastern region of the division.