Winnipeg's Heritage Park Temple is lending its voice to an inter-church campaign to support the Shoal Lake 40 First Nations band. In September, the corps publicly affirmed its support, unfurling a banner in favour of the building of what has been called Freedom Road.
The campaign stems from an historic disparity in water quality for the band and nearby Winnipeg. The City of Winnipeg receives clean water from the Shoal Lake 40 First Nation, without compensation, while the people at Shoal Lake have been on a boil water notice for 18 years. Moreover, the access corridor for the water through their land is a barrier that creates negative consequences for the community. These problems could be largely alleviated by a 27-kilometre road connecting Shoal Lake 40 with the Trans-Canada Highway, at a cost of $30 million. The City of Winnipeg and Province of Manitoba have committed $10 million each, but the federal government has yet to commit to supporting the road.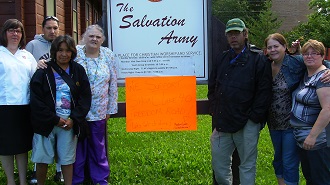 "Churches for Freedom Road is committed to raising a respectful but firm voice in support of Shoal Lake 40, calling our government to honour its fiduciary responsibility to First Nations, and build the road," explains Gary Robson, corps member at Heritage Park Temple. More than 60 churches have joined the campaign to date, including Heritage Park Temple and Meadow Lake Corps, Sask.