On August 3, Prime Minister Stephen Harper started the longest federal election campaign period in Canada since 1872. Over 78 days, representatives from each party will attempt to lure voters with promises of better policies, new programs, lower taxes and a generally better government. Party leaders will cross the country shaking hands, kissing babies, debating, trading veiled—and blatant—insults, all in an effort to gain attention and support. It would be easy to get overwhelmed or disinterested in the constant barrage of information and opinions about the candidates and parties. But rather than viewing it as an annoyance, try to see this election as an opportunity to engage in democracy.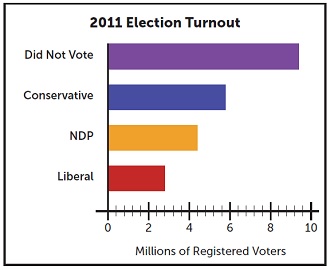 In the last two federal elections, close to 40 percent of Canadians didn't cast a ballot. That works out to more than nine million registered voters. While some argue that one vote doesn't make a difference, the statistics tell a different story. In the last election, no party received as many votes as people who didn't vote. Your vote counts!
Get Informed
The good news is that an 11-week election campaign offers Canadians more opportunity than ever before to learn about the candidates, the parties and their platforms. Issues such as poverty, homelessness, human trafficking and Indigenous rights are concerns for every community across our country.
What do you care about? Poverty? Climate change? Health care? Your member of Parliament will be your local representative in government, so meet the candidates running in your riding and ask them questions. For example:


How will they and their party work to establish an overall strategy to reduce poverty, with measurable and attainable goals?


What are their party's plans to ensure more accessible, affordable and quality housing as a way to support low-income individuals and families?


How will their party respond to the recommendations delivered by the Truth and Reconciliation Commission?


Consider the fact that there are now more seats in the House of Commons than ever before. Under new boundaries drawn up by Elections Canada, 30 new ridings were created. Also, an estimated 55 members of Parliament will not be running in this election, which means a record number of seats—85 of the 338 ridings across Canada—are open, with no incumbent candidate.
Living in a democracy, with the freedom to choose our leaders, is a privilege and a responsibility. Don't waste the opportunity. Your voice matters, so make it heard. In the words of William Lyon Mackenzie King, Canada's 10th prime minister, "where there is little or no public opinion, there is likely to be bad government."
---
How to Vote
Step 1: Check if you are registered to vote.
Elections Canada's website (
elections.ca
) makes it easy. Enter your name, birthdate and address, and Elections Canada will confirm your electoral district (note: this may have changed under the new boundaries), and whether you are registered to vote at your current address.
Step 2: Get registered.
Follow the appropriate links online or head down to your local polling office with two pieces of government identification (at least one of which contains your address). Under new rules, you'll also need these when you vote—either one piece of government identification with your address or two pieces of ID, one with your current address (e.g. a passport and a utility bill).
Step 3: Educate yourself.
Take time to learn about each of the parties and the candidates in your riding.
Step 4: Mark your calendar and vote.
Election Day is October 19, 2015. Polling stations will be open all day and into the evening. Advance polls will also be open October 9-12, from 12 p.m. to 8 p.m. Voting at Elections Canada offices or by mail are also options.
---
Additional Resources
The Canadian Council of Churches, of which The Salvation Army is a member, has compiled a resource for Canadian voters in preparation for the 2015 Canadian federal election.
The resource identifies a range of priority issues, offers sample questions you can ask of candidates, and provides links to resources where you can learn more about these particular issues. Visit
www.councilofchurches.ca/social-justice/election-2015/
to view and download this resource.
Jessica McKeachie is The Salvation Army's public affairs director in the Canada and Bermuda Territory. Connect with her at jessica_mckeachie@can.salvationarmy.org.