The streets of Hamilton rang with music from the Bermuda Divisional Band as Salvationists participated in a march of witness on the second day of the Boundless Bermuda Congress. General André Cox and Commissioner Silvia Cox, World President of Women's Ministries, along with Commissioner Susan McMillan, territorial commander for the Canada and Bermuda Territory, were on hand to take the salute as officers and soldiers marched past on their way to the Hamilton Princess Hotel for the welcome meeting.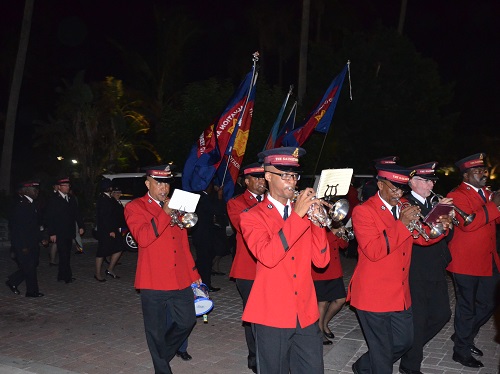 As the international leaders entered the auditorium and made their way to the platform, they were greeted by an honour guard of young people, officers and soldiers.
The evening featured the talents of Salvationists from across the division, including presentations from the congress chorus, a choir of young people, the Bermuda Divisional Band, soloist Kayla Esdaille and the puppet team from West End Community Church, who performed using glow-in-the-dark puppets. A particularly poignant moment was when a group of men from the Harbour Light sang
Your Grace and Mercy
, as a testimony to the way God's grace and mercy brought them through the difficult times of their lives.
Prior to the singing of the congress theme song,
Saved to Serve
, written for the occasion by Salvationists Jerome Astwood (lyrics) and Sheldon E. Fox II (music), the General and Commissioner Cox were invited to join in a few moments of lighthearted fun. To the great delight of the congregation, a moped—an iconic symbol of transportation in Bermuda—was brought into the sanctuary. The international leaders donned helmets and sat astride the motorbike, and received a personalized Bermuda license plate displaying their name.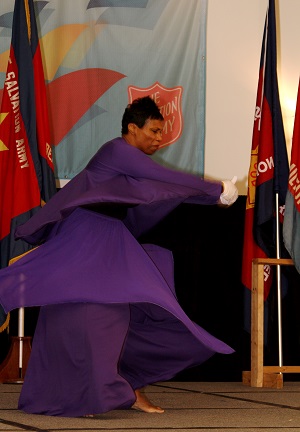 A liturgical dance presentation by Patreese Simmons of North Street Citadel preceded the General's sermon and prepared the hearts of those gathered to hear the Word of the Lord.
"God is speaking to The Salvation Army in Bermuda," declared General André Cox. "How will we respond?" Sharing from Hebrews 11, he challenged the congregation to deepen their relationship with God and then to live out their faith to make positive changes and bring about transformation in the world. "God chooses to fulfil his plan of salvation for the world through us," he said.
As the welcome meeting came to a close, Major Cindy Butler, divisional children's ministries secretary and corps officer at West End Community Church, offered a prayer of blessing on congress events and committed everything that would take place to the Lord.