Booth University College saw its largest crowd to date at its annual convocation ceremony at Knox United Church in Winnipeg in April. Approximately 800 people filled the church to celebrate Booth's 54 new graduates.
This year's convocation address was given by Professor Roy Jeal, who exhorted students to do good with humility.
"Doing good will lead you to what is right. Play your game forward, for the benefit of others," said Jeal. "The greatest people are those who do a good job in an obscure place with unknown people, who influence the lives of 'the little people' for good things."
This year's valedictorian, bachelor of social work graduate Stephanie Titchkosky, spoke of her classmates' shared passion, which is rooted in love, compassion, mercy and justice.
"Our graduating class represents an entire generation of people who have committed to go out into the world and make a difference," she said. "Booth is not just another university; it is a special place where strangers leave as friends, and where friends leave as family."
As part of the ceremony, Commissioner Susan McMillan, territorial commander, presented the Chancellor's Medal to bachelor of social work graduate Aaron Wayne Goodchild and the General's Medal to bachelor of arts graduate Captain Bev Brushett, director of pastoral services, Ottawa Booth Centre.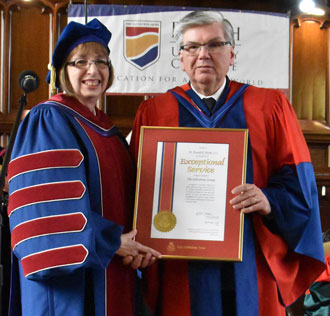 In his final message to Booth students, outgoing president Dr. Donald Burke reminded them, "God remains with you, working in you, working through you. Discipline your mind until it is shaped by the Spirit of God; bend your will until it rests safely and firmly in the divine hand; and offer your hands to the Lord's labour, until the world gives birth to perfect peace."
During the convocation ceremony, Commissioner McMillan presented Burke with the Salvation Army's Certificate in Recognition of Exceptional Service, the Army's highest civilian award. He has served as president since 2006 and has been with the institution since it opened in 1982.
"What a privilege it was for me to recognize the faithful service of Don Burke as an educator and administrator of Booth University College," says Commissioner McMillan. "Don has dedicated his life to teaching the Word of God and imparting doctrinal clarity to his students. The Army is grateful for the way he built on the foundation of his predecessor presidents to bring Booth forward as a unique organization in the Army world."
Watch a recording of Booth's convocation ceremony below and see more videos at youtube.com/BoothUC.