When it comes to the Olympics, Canada's boxing journey has been long and winding. We haven't won a boxing medal since we took home silver at the 1996 Games. As for gold, we have to go back to boxing great Lennox Lewis' triumph at Seoul in 1988—one year after Olympic boxer Mandy Bujold's birth.
So it was no small matter that Lennox made himself available to watch Mandy win one of her last local fights before heading to the 2016 Summer Olympics in Rio de Janeiro this month as part of Team Canada.
He's known her for eight years and they've both trained at the same local gyms in Kitchener, Ont. Mandy's coach, Adrian Teodorescu, was also Lennox's and worked his corner when he won at the Seoul Olympics. "It was great to see Lennox," Mandy says. "He knows what it takes to reach the top of the Olympic podium and to hear him say he thinks I have what it takes means a lot."
"I'm a big supporter of Mandy," Lennox told CBC Sports at the event, and he expects her to do well. "She's got a lot of tough competition, but I had a lot of tough competition when I went to the Olympics," he said. "It's all in the mindset. She's definitely got the great mindset for going into the ring. And into Rio."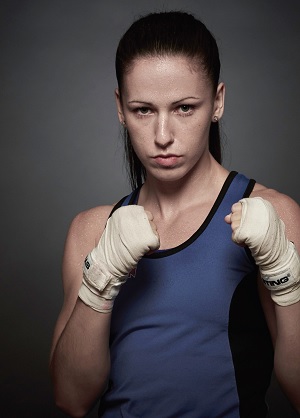 This Is What I Want
Qualifying for the Olympics is just the most recent accomplishment for Mandy. Last year, she won another gold medal at the Pan Am Games to match the one she won in 2011. In 2014, she was a bronze medalist at the Commonwealth Games and is a 10-time national champ.
But representing Canada on the Olympic stage was the furthest thing from Mandy's mind when she was growing up in Moncton, N.B. She wasn't into sports—"I didn't even like gym class!"—and didn't know anything about boxing.
"One day, my brother brought home a punching bag and two sets of boxing gloves," Mandy recalls. "I remember going down to the basement and slipping them on. I didn't know anything about boxing as far as stance is concerned or how to throw proper punches, but I really enjoyed the feeling of hitting that bag!"
It wasn't until her family moved to Kitchener and her brother joined the Waterloo Regional Boxing Academy, the storied gym where Lennox had trained, that her interest rekindled.
"My brother would come home excited about what he was learning and how he was getting in shape, and I wanted to do what he was doing. But he didn't want his little sister tagging along with him to the gym. It wasn't cool."
Eventually, though, he quit in order to go to work full time, and that gave Mandy her opportunity.
"As soon as I stepped into the gym, I was hooked," she says. "I wasn't athletic by any means and boxing is one of the most physically demanding sports, but that's exactly what drew me to it. I loved the look and feel of it, the atmosphere—everything about it. I remember thinking, This is what I want to do."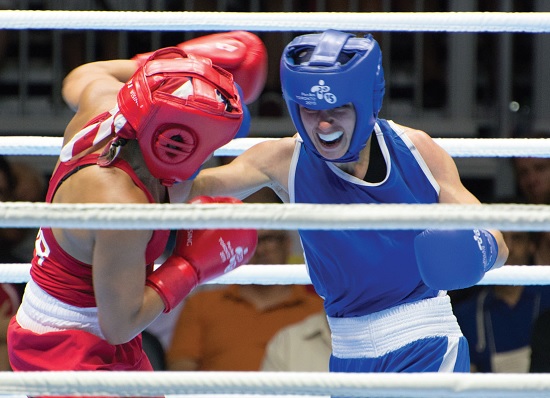 One Fight at a Time
Mandy loved the gym but, that first year, in-ring competition didn't interest her. The more she trained and the more she learned, however, the more she felt comfortable with the prospect. After a year, coaches and friends at the gym convinced Mandy that she was ready to step into the ring.
"It was exciting," Mandy smiles at the thought of how she won her first match.
"I didn't know the rules well yet. It turns out that I won on points after round two, though I was unaware of that. I went back to my corner and the coach started taking off my headgear and my gloves. I hadn't realized I'd won the match!
"From then on, it clicked, and I started taking things one fight at a time, and now I am headed to Rio!"
Seizing the Opportunity
For Mandy, work ethic, and mental and physical preparation are key to winning any bout, and faith is a part of that prep work.
She was born into a family of churchgoers and everyone was expected to attend. But once Mandy got older, things changed.
"As I started to get more serious about boxing, I also started to get more serious about my relationship with God," she explains. "It wasn't a coincidence."
She listens to Christian songs on her iPod while she trains—Hillsong United is her favourite group—and her mother will call and send her inspirational passages from the Bible. Mandy also carries a little Bible around with her that she reads constantly. "It's where I put my energy and focus.
"Before a match, I am praying, right up until I get into the ring," Mandy continues. "That's what keeps me calm. Faith plays a major role in my preparation for a bout."
All of that has shaped Mandy into a redoubtable opponent.
"Mandy's a spitfire," declares Nicole Powenkumar, an athlete who has sparred with her many times. "She's so quick and nimble but she's a powerhouse for someone her size, and she can read her opponents. But she's also a wonderful, modest individual who doesn't showboat. She's a role model as well as an athlete.
"She's always been great," Nicole adds, "but this year she's stepped it up to another level. When you are in the ring with her, you just know it."
"It's hard to put into words how exciting this opportunity is for me," concludes Mandy. "My entire life, my entire career, has led up to this. I've worked hard for this moment, and I'm not going to let anyone down."
Boxing 101
• Women's boxing bouts consist of four rounds of two minutes each with one-minute breaks between each round.
• Scores are tallied after each round where the winner of the round based on overall performance receives 10 points while the loser receives nine.
• At the end of the four rounds, the scores of the three judges are compared, which is why there might be a final score of 3-0 or 2-1.
Photos: Courtesy of Boxing Canada