Until a few weeks ago, residents of West Kelowna, B.C., had to travel half a day by bus to get help from The Salvation Army in Kelowna. This created a significant barrier and an added stress for many looking to access Salvation Army services.
On August 18, The Salvation Army opened its new Community Life Centre on Kelowna's west side, which will help meet their local community needs and make it easier for people to receive support.
"The new Community Life Centre will be a great service," says Michael Edwards, caseworker. "One family we helped took four buses from West Kelowna to Kelowna over the course of most of the day just to get support."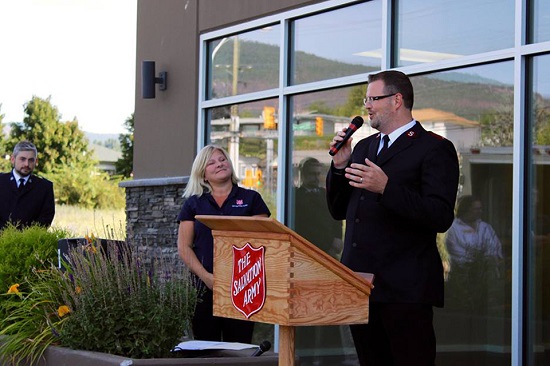 The Salvation Army has served in the central Okanagan since 1919. Just as Kelowna has continued to grow, the Greater Westside Communities have also seen significant development.
"Last year the number of people coming to us for help doubled," says Pam Grimm, communications coordinator. "We are serving more working families―people who can't afford both rent and food and clothes for their children―who have never had to do this before."
Grimm notes that when people come for practical support such as food or clothing, there are often deeper issues that are addressed.
"We develop our programs based on need," says Grimm. "For example, we are providing a Family Empowerment Program that supports people impacted by a loved one's mental illness and/or addiction, a budgeting class that helps individuals maximize their limited assets, and parenting tools for those seeking direction and guidance. Our goal is to provide resources to help people get back on their feet quickly and be self-sustaining."
The new Community Life Centre will also allow The Salvation Army to work closely with First Nations communities and support services in the area, creating a more collaborative approach to helping people in their time of need.