The Salvation Army's Harbour Light facility in Toronto was filled with the Thanksgiving spirit yesterday as hundreds gathered to enjoy a holiday meal, served by the Toronto Argonauts. This was the 19th year that the Army and the Argos partnered to put on the dinner, a turkey feast with all the trimmings.

"It's something I look forward to every year," says linebacker James Yurichuk, who was participating for the fourth time. "It's a chance to connect with people in the community—people who sometimes get neglected. It's special for me, and I hope it's special for them."

Wide receiver Kevin Bradfield agrees. "We love this stuff. Anytime I can help somebody and put a smile on somebody's face, I'll go out of my way to do that."

For people like Johnson Beardsley, this was indeed a special meal. "This is my first time to have Thanksgiving in two decades," he says.




As well as serving the food, the Argos took turns meeting fans, posing for photos and signing autographs.

"Meeting the Argos was good," says Jamie MacDonald, who stuck around after finishing his meal to get autographs from each player. "I'm a huge Argos fan."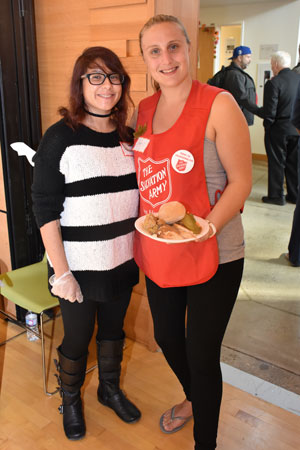 "I think it's great," says Stephanie Parray, who spent the whole day at Harbour Light, helping in the kitchen. "I like how the Argos take time out of their busy schedule to do this."

Though the line outside Harbour Light often stretched down the block, it moved quickly and smoothly as people filled their plates and found a seat in the festively decorated dining room. The meal brought together a diverse group—families and singles, young and old, people of all different backgrounds.

"The people don't just come for the food; they come for the community," says Major Ray Braddock, Harbour Light chaplain. "And there's no better way to get to know people than by eating with them."

Over the course of the afternoon, approximately 800 meals were served.