(Above) Project officer Ibrahim Thawani (second from right) with farmers in Funwe, Malawi, who have received training in conservation agriculture
In Monkey Bay, Malawi, Lieutenant Granger Phiri leads our Canadian team around a local garden, or munda as it's known in Chichewa, the country's national language.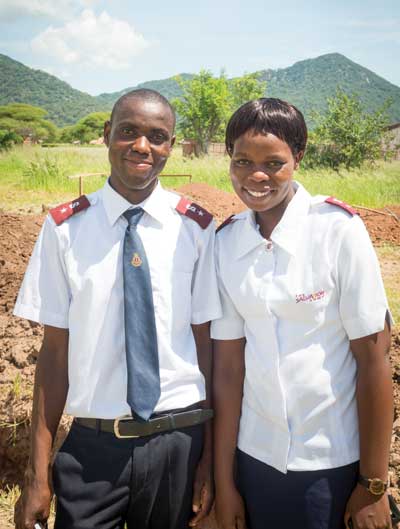 "I was born in a farming family. I thought I knew it all, but The Salvation Army's agricultural training is proof that learning does not end," he says. "All my life I've been farming, but at harvest I never yielded anything that could match my efforts."
He points to two maize plots side by side and explains how in one, the farmer planted in the traditional way and, in the other, used methods he learned from The Salvation Army's agricultural training. The two plots couldn't look more different. "Now, many people stop at the garden wondering how the maize looks so beautiful," says Lieutenant Phiri. When friends and neighbours ask the farmer how he did it, he tells them about conservation agriculture.
Also known as "Farming God's Way," conservation agriculture is a set of principles that minimize the disruption of the soil structure, composition and natural biodiversity. This method involves crop rotation, mulching and zero tillage, which have been proven to increase crop yields. Conservation agriculture is also environmentally sustainable and produces crops that are more resilient to the effects of climate change, by improving the retention of moisture, increasing soil fertility and reducing soil erosion, disease and pests.
Malawi, a landlocked country in southeastern Africa, is one of the world's most impoverished nations. While 80 per cent of the population participates in subsistence farming, many face food shortages due to low crop yields, drought and flooding. The United Nations' Sustainable Development Goals (SDGs)—a set of 17 goals to improve social and economic development by 2030—are at the core of The Salvation Army's international work. While the Army's international projects tackle many of these issues, including health, education and gender equality, its agricultural training program in Malawi primarily focuses on SDG 1 (No Poverty) and SDG 2 (Zero Hunger).
Leaving Monkey Bay, our team travels half an hour south to the remote village of Funwe. On the way, we pass a lake that has completely dried up, evidence of how climate change is affecting this arid, mountainous region. Increased drought and flooding are partially responsible for the farmers' low crop yields, as are years of human activity that have depleted the soil's natural vegetation.
Accompanying us to Funwe is Salvation Army project officer Ibrahim Thawani, who has been working with the community for two years. He has overseen agricultural training for 264 families and, when we arrive, introduces us to some of the community members who have participated in the program.
Before receiving training, Haswell and Sinjilireni struggled to put food on the table and couldn't afford to send their children to school. Able to produce only two to three 50-kilogram bags of maize each harvest, they had only enough food to last three months. For the remainder of the year, they survived by selling charcoal at the local market or relying on government handouts. Unfortunately, this is a common story in Funwe and other remote communities in Malawi, where school dropout rates are high and many struggle to get enough to eat.
Now fully trained in conservation agriculture, Haswell and Sinjilireni are able to harvest more than 20 50-kilogram bags of maize—10 times what they produced before.
"Their lives have completely changed," says Thawani. "They have food throughout the year and are able to support their family." Haswell and Sinjilireni's children have been enrolled at the local school and the couple plans to increase their plot so they can sell produce at their local market. With regular income, they'll be able to cover their basic needs, such as food, clothing, school supplies and medicine. "I've seen the transformation I dreamed about when the project started two years ago," says Thawani. "In Funwe, people are smiling and working together."
Donations to The Salvation Army's Gifts of Hope program "Hope Through Farming" gift option helped cover the costs of training, as well as seeds, manure and tools. Other gifts, such as ox carts, water and sanitation, and bush ambulances, have allowed The Salvation Army to offer holistic support that benefits the entire community. All of these practical supports have been made possible thanks to donations from individuals in Canada.
As each family in Funwe stands before their plot, it's easy to see the pride in their faces as they show us their tall, sturdy and green stalks of maize.
"Malawians have the in-born drive to always work hard, but our sacrifices and efforts weren't being rewarded. I was doing it all, but I didn't know how to farm God's way," explains Lieutenant Phiri. "Now we've learned how to farm the most natural way, using manure and without making ridges, and a miracle has happened in our gardens."
Back in Monkey Bay, he gestures between the two vastly different plots in the garden: one flourishing, the other dull and dry. "I don't need any more proof than this."
Ruth Hobbis is the resource media co-ordinator for the world missions department.