Jim Skinner still can't believe how different his life is today.
"I have a beautiful wife, a close relationship with my daughter and a loving, supportive church family," he says. It's a far cry from where he stood in 2004. Then, he was in jail, serving time for driving under the influence. Alcoholism had already destroyed one marriage and put an end to his family life. In fact, alcohol had cost him everything—but Jim couldn't stop drinking.
Could anything turn his life around?
A Token in Futility
Jim grew up in Harbour Breton, N.L. As a child, he attended church with his mother and younger brothers.
"But when I was 11 or 12, I lost interest in church," he says. "I decided not to go anymore, and there wasn't much my mom could do about it."
Not long after, an older cousin offered Jim his first taste of alcohol.
"At first, I drank because of peer pressure," he says. "But then I started drinking every weekend."
After high school, Jim studied to be an electrician. In 1990, he met a woman and the two began dating. The first time he met her parents, they invited him to attend church with them. Although it had been nearly a decade since he'd gone to church, Jim accepted the invitation.
"It was a beautiful service," Jim recalls. "It moved me to tears, and I felt this warmth come over me. I know now that God was working in my heart, showing me a taste of what it would be like to have a relationship with Him. But I never acted on it."
Jim married that woman and they had a daughter. They moved to St. John's, N.L., and that's when Jim's drinking got even worse. "When I first started drinking, I'd mix the alcohol with juice or soda, but by that time, I was drinking it straight, right out of the bottle," he says. "My wife left me, and I couldn't blame her. I would've left me, too!"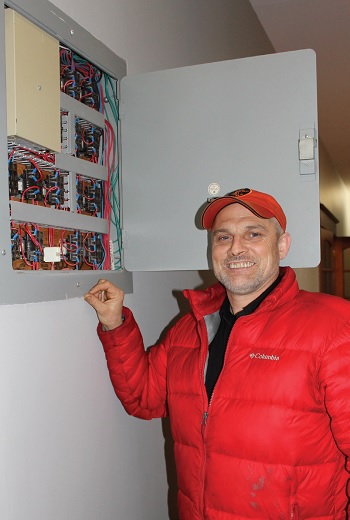 Eventually, Jim realized he needed to make a change and he began attending Alcoholics Anonymous meetings. They helped him get sober, but it was always temporary.
"I have so many tokens for one year of sobriety," Jim says. "I'd get clean, but then I always went back to my addiction."
Taking Action
Five years after his divorce, Jim met a woman named Linda in a club. The two began dating and got married in 2007.
Not long after, Linda's father began having health problems and he had to stop driving. Linda took over driving her parents around, including to Salvation Army church services in Conception Bay South, N.L.
"Linda really liked the services there, and she wanted me to go, too," Jim says. "But I replied, 'I don't need that.' "
However, Linda's father invited Jim to attend a church dinner with him, and Jim reluctantly agreed to go.
"The people there treated me like they'd known me all my life," Jim says. "They took the time to ask me about my job and my life. It felt good to have people interested in me."
Jim started going to church regularly and reading his Bible, too. At the 2014 Christmas Eve service, the pastor, Major Lorne Pritchett, was preaching about the first Christmas.
"I could picture Jesus' birth more than 2,000 years ago," Jim says. "As I sat in that pew, that warm feeling came back over me. I felt so emotional, and I knew that God was reminding me of that church service I'd attended so many years ago. God was giving me another chance to accept His offer."
Jim took action. "That night, I prayed and asked God to forgive me for my sins and come into my life. I asked Him to be my Saviour."
Living Proof
As a result, Jim's life was forever changed in so many ways. "I turned my addiction over to God, and He completely took away my cravings for alcohol," he says. "I'd never been able to stay clean permanently, but God healed me of that addiction. It doesn't tempt me anymore."
Jim also noticed a big change in his attitude. "I've found that I want to help people more than I used to. Life isn't all about me anymore," he says.
Jim has used his skills as an electrician to help out at the church. "I make sure the lights stay on," Jim says. "It's my way of doing the Lord's work at church."
But that's not his only contribution. At their church, Jim and his friend, Nic, started Celebrate Recovery, a 12-step program that helps people deal with their hurts, hang-ups and habits.
"God is now using everything I've been through and all the pain I've caused my loved ones for good," Jim says. "I went through it so I can help others. I want to show people that it doesn't matter what you've done. I've been there and probably done worse, and God changed me. I want people to know that God can change them, too."
Today, Jim works as the electrical supervisor for the St. John's Dockyard. "It's a stressful job," he says. "There's only one other believer there, but I believe God put me there for a reason."
In November 2016, Jim became a senior soldier in The Salvation Army.
"I love my church and I wanted to be a part of it in a formal way," he says.
Jim recently went to visit his mother. "My mom was so proud that I returned to the Lord," he says. "Others in my family were shocked to see me wearing a Salvation Army uniform. But I'm proof that, in this church, there's room for everyone."