(above) "The Salvation Army's emergency disaster services van was stationed at Maskwacis, Alta., to serve during the sacred event."
During Pope Francis' historic visit to Canada in July, The Salvation Army provided water and snacks at events in the Edmonton area, and meals to volunteers at the Lac Ste. Anne pilgrimage site. More than 100,000 bottles of water and 9,000 snack bags were distributed at the events by over 60 Salvation Army staff and volunteers, led by Major Ben Lippers, divisional director of emergency disaster services, Alberta and Northern Territories Division.
The first event took place at the former residential school site in Maskwacis, Alta., on July 25. "Maskwacis was a solemn, sacred experience where many tears were shed listening to Pope Francis offer an apology," says Major Margaret McLeod, divisional commander. "The Salvation Army was blessed to be able to share the love of Jesus through the distribution of healthy snacks, water, rain ponchos and tissues."
That afternoon, the pontiff met with Indigenous peoples and members of the parish community of Sacred Heart at the Sacred Heart Church of the First Peoples in Edmonton.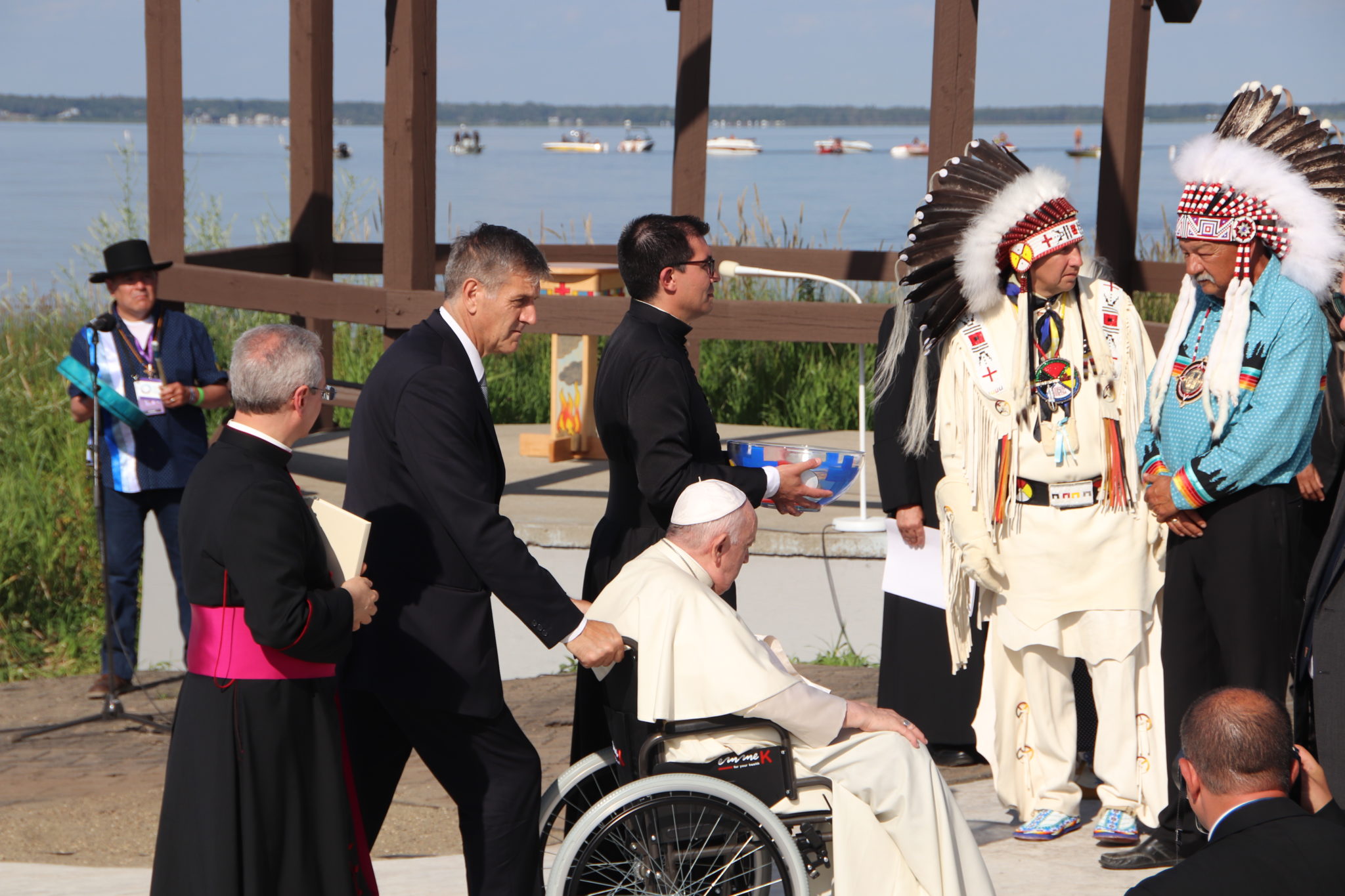 The following day, a large-scale mass was open to the public, attended by an estimated 60,000 people who shared in the service and the Indigenous traditions that were incorporated into it. Given the high temperature that day, The Salvation Army set up four water stations and brought water to people in the stands.
"I am proud of the teams who came together on short notice to liveout, in action, the mission of The Salvation Army," says Major McLeod.
The Papal visit included a pilgrimage to the site at Lac Ste. Anne, a long-established annual gathering place for Indigenous peoples. The Salvation Army was ready with water and snack stations, food for volunteers, and snack bags laid out for each attendee, including survivors and their caregivers. More than 300 mental-health support workers were on-site for those needing someone to talk to.
Major Lippers says that this visit was not only historic but also monumental. "Seeing The Salvation Army in Alberta mobilize to meet this need makes my heart swell. This task could not be accomplished by a single individual; it took an Army."
Volunteers and staff have expressed how special it was to be a part of this visit. The Salvation Army will continue to serve and pray along the journey toward truth and reconciliation.