Salvationists gathered at Vancouver's Chan Centre for the Performing Arts on Sunday morning for a time of praise and worship as congress and commissioning events drew to a close. The call to worship featured young people from across the British Columbia Division, each speaking in one of the many languages spoken throughout the province, including English, Mandarin, Nisga'a, Spanish and French.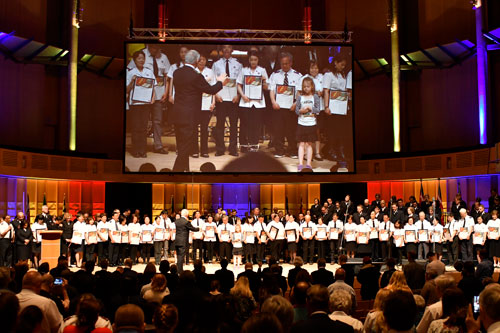 Children in attendance at congress events participated in Co-Mission: I.N.G., an interactive kids program developed and presented by the Canada and Bermuda Territory's youth and children's ministries department. During each meeting, the young people had fun being agents in the "secret service" as they solved undercover missions and learned how to become Messengers of Compassion.
Following the singing of
Stand Up and Bless the Lord
, Commissioner Susan McMillan, territorial commander, introduced and expressed words of welcome to the Army's international leaders, General Brian Peddle and Commissioner Rosalie Peddle, World President of Women's Ministries, who gave leadership to the weekend events. In her response, Commissioner Peddle expressed how humbled she feels when people introduce them in a public forum. "All you need to know about us is that we love the Lord Jesus Christ with all of our hearts!" she said.
A highlight of the meeting was the enrolment of 40 senior soldiers and one junior soldier by the General. It was a poignant moment when General Peddle knelt on one knee to speak directly to Heather Ramsay, the "bravest junior soldier in British Columbia," as she recited the Junior Soldier Promise.
Following a time of praise and worship led by the officer staff from divisional headquarters, Commissioner McMillan recognized the recipients of the Fellowship of the Silver Star, people who have made a spiritual impact on the lives of the new lieutenants of the Messengers of Compassion Session who were commissioned the night before. Following the service, a luncheon was held in their honour. The summer assignments of the Messengers of the Kingdom were also recognized.
In his message, the General encouraged those gathered at the Chan Centre and the many people watching the weekend's events via live stream to "take responsibility" for growing the kingdom of God. "Our mission is clear," he said. "We share Jesus Christ." Many responded to the General's invitation to kneel at the mercy seat to dedicate themselves afresh to God, allowing them to return to their home corps revitalized for mission and ministry.
To see more photos of the holiness meeting, visit our Facebook page: facebook.com/salvationistmagazine.

Watch the full meeting below: