British Columbia Congress and Commissioning 2019 has begun! Gathering at the Chan Centre for the Performing Arts in Vancouver, Salvationists and friends kicked things off with an exciting evening of music and celebrations at Friday evening's welcome meeting.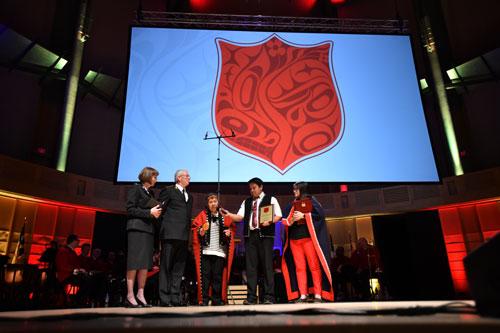 The evening began with a tribute to National Indigenous Peoples Day as Indigenous Salvationists took to the stage for a dramatic presentation with drums and singing to mark the occasion. Damian Azak, corps leader in Gitwinksihlkw, B.C., waved the Army flag as he led the procession of congress leaders to the stage, including General Brian Peddle and Commissioner Rosalie Peddle, World President of Women's Ministries, Canadian officers currently serving as the international leaders of The Salvation Army. Joining them were Commissioner Susan McMillan, territorial commander, and Colonels Edward and Shelley Hill, chief secretary and territorial secretary for women's ministries.
Later in the meeting, the General and Commissioner McMillan unveiled a new Salvation Army Gitxsan Shield which will be displayed in corps in Gitsegukla, Sik-e-Dakh and Hazelton, B.C. The General presented a plaque with the Gitxsan Shield to 
Simogyet (Chief) Axigigii
of the Gitxsan Nation.
Musical contributions from the Canadian Staff Band (John Lam, bandmaster), the Mandarin Choir from New Life Church in Vancouver (Ling-Li Shieh, leader) and the B.C. Lower Mainland Youth Chorus (Jon Michel, leader) added to the celebrations.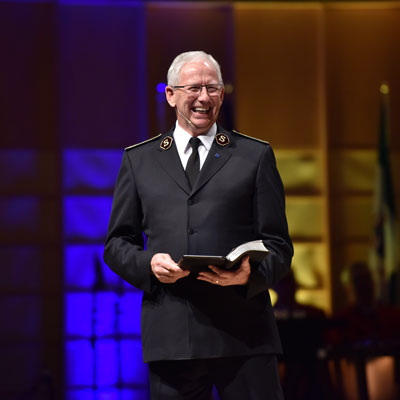 The General and Commissioner McMillan presented two individuals with special awards recognizing the contributions they have made to The Salvation Army. The Order of Distinguished Auxiliary Service was presented to Andrew Lennox, chair of the National Advisory Board, and an Award of Exceptional Service to Salvationist David Kang for his faithful ministry in Toronto and Korea.
In his message, the General shared his Call to Mission. "God is calling us to do more," he said. "We, his people, have to be in the 'ready' position." People moved forward to pray at the mercy seat in response to the General's invitation.
After the welcome meeting concluded, young Salvationists gathered at "The Pit" for a time of worship and fellowship with the General, Commissioner Peddle and territorial leaders.
Events will continue throughout the weekend, on Saturday with workshops, an indoor/outdoor fellowship and celebration event, and the commissioning and ordination of the Messengers of Compassion, and on Sunday with a prayer walk and worship service.
To see more photos of the welcome meeting, visit our Facebook page: facebook.com/salvationistmagazine.

Watch the full meeting below: