On Monday, July 1, 1867, when Queen Victoria proclaimed the Dominion of Canada, uniting Ontario, Quebec, Nova Scotia and New Brunswick into a single nation, William Booth, future General of The Salvation Army, most likely paid little attention to the momentous occasion. As the church bells rang in the four capital cities, as brass bands played, bonfires were lit and fireworks lit the sky to celebrate the event, Booth was more concerned with getting his East London Christian Mission established, finding ways to alleviate the poverty and spiritual torpor of London, England's "submerged 10th." The new Canada was not, as far as we know, of much interest to the 50-year-old revivalist and social activist.

But it soon was—as early as July 1882, in fact.

Canada, the 15-year-old nation, was growing into maturity. Already she had added three new provinces (Manitoba in 1870, British Columbia in 1871 and Prince Edward Island in 1873), was building a railroad across the vast prairies and was becoming, both politically and financially, self-sufficient and prosperous.

The Salvation Army (so re-named in 1878) though just 17, was, astonishingly, already one of the most popular evangelical movements in the world. William Booth's blend of old-fashioned Wesleyanism and military deportment was attracting thousands into its ranks, even across the ocean. And soon after India, Australia and the United States had been "invaded," Canada became acquainted with Booth's drum-beating, hallelujah-shouting Army of salvation. It was an acquaintance that would mature into a lasting friendship.

What made the relationship between The Salvation Army and Canada so agreeable was not solely to the infusion of revivalism but that the Army proved to be an active partner in the nation-building process. As stated often by Booth, it was not enough simply to sit in the barracks, sing happy songs, play soulsaving music and experience revivalism; Salvationists were expected to go into the community, as both evangelists and social workers. At the local community level, this meant visiting jails and hospitals, providing Christmas hampers for the poor, and helping in any way possible to alleviate suffering and poverty. At a national level, such altruism resulted in the following ventures that helped to change, improve or aid the progress of the growing nation.

After-Prison Care and Police-Court Work

In late 1890, Torontonians might have seen a red carriage, on whose side was emblazoned The Deliverer, drawn by two fine horses. By those who rode in it, it was called the Red Maria, for when they had been taken to the central prison they had been transported in a Black Maria. But now they were being taken away from prison to The Salvation Army's PrisonGate Home, where they might readjust to society, find work and hopefully lead new lives. The Army had commenced the first after-care program for convicts in Canada.

The program was so well accepted by prison officials that soon Salvation Army officers were allowed access to other jails and prisons, not only to conduct religious services but to interview prisoners and establish the contact necessary for effective after-care. Soon, prison-gate homes became recognized features of many Canadian communities. Equally significant was the fact that the Army's prison work helped change penal philosophy to the extent that in 1898, the first Canadian Parole Act (popularly known as The Ticket of Leave Act) authorized the governor general, on advice, to grant any prisoner conditional release. And since little thought had been given to the task of supervising the paroled person, the Army again stepped in to accept yet another challenge, leading to another "first." On May 1, 1905, Brigadier W.P. Archibald, who had overseen the program, became Canada's first Dominion parole officer, Army officials being only too happy to accept his resignation for the benefit of the nation.

"Our prisons," wrote William Booth in 1890, "ought to be reforming institutions, which should turn out men [and women] better than when they entered their doors." While one may feel that Booth's ideal has never been fully achieved, his Canadian Salvationists might nevertheless be proud that, through the Army's correctional and justice services—its police-court counselling, after-care programs, parole supervision and chaplaincy services— they have at least made a considerable effort in that direction.

The Salvation Army as a Canadian Immigration Agency

On April 26, 1905, the Dominion Line steamship S.S. Vancouver left Liverpool, England, with 1,000 immigrants bound for Canada. They were given a rousing send-off by the Liverpool Salvation Army Band, interspersed by prayers and speeches by Mrs. Bramwell Booth and civic officials, including the lord mayor of the city. Just before the ship sailed, a message was read from William Booth himself: "God carry you safely to your new homes. Fearlessly calculate upon hard work. Make Canada a home that will be a credit to the Old Land. Put God first. Meet me in heaven." At 6 o'clock, as the band played Maple Leaf and God Be With You Till We Meet Again, and "amidst cheers, waving of hats and handkerchiefs, and the singing of the Doxology," the S.S. Vancouver glided into mid-river and began her journey across the Atlantic.

The lavish send-off, though typical of most Salvation Army events, was intended in this instance to give public notice of the Army's newest venture—immigration; that, in fact, the Canadian government had accepted the Army as one of its official immigration agencies.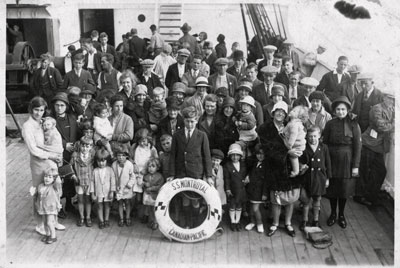 The S.S. Vancouver was the first of 11 ships chartered by the Army to transport its sponsored (and financially assisted) immigrants to Canada. They were tee-total crossings, with Army officers as "conductors," and were met on landing by other officers to see them eventually to their final destinations. By such exclusive charters, and by many hundreds of other "conducted parties" in the following years, The Salvation Army assisted approximately 112,000 immigrants from 1905 to 1932—whole families, juvenile farm labourers, young domestic servants, war widows—to make Canada their home. And by doing so, they helped fulfil the Confederation dream of a nation "a mari usque ad mare" ("from sea to sea").

From Rescue Homes to Grace Hospitals

In 1887, when Captain Susan Jones invited a few "wayward" girls to live with her at her officers' quarters at 270 Farley Avenue, Toronto, she commenced what would soon become the Army's first major social outreach—a chain of rescue homes across the nation. That initiative would lead to a series of Grace maternity hospitals in nine of Canada's major cities.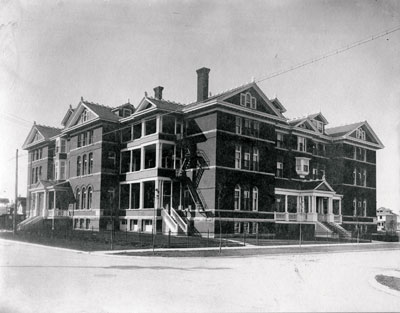 Since there were almost no maternity hospitals in Canada, some doctors working at the rescue homes began to think that they (or an adjunct to them) might fulfil that function.

Thus, in 1898, and later in 1905, when new rescue homes were opened in Saint John, N.B., and Toronto, they were called and considered to be maternity hospitals (though neither was accredited) with "staffs of doctors who rendered skilled service gratuitously." And finally, with the astounding success of the first accredited Grace Hospital in Winnipeg (opened May 15, 1906) and the proliferation of the same across the nation, many thousands of young Canadians were making the proud claim, "I was born at the Grace." It was, for most if not all, a badge of honour.

The Salvation Army as a Second World War Auxiliary Service

If Canadians of the 1950s were asked to define a Salvation Army icon, they would almost immediately suggest the Red Shield. It endured in the hearts of so many because during the Second World War (1939-1945) they had, either at a Canadian base or at the battlefront, been refreshed, consoled or fed at one of the Army's mobile canteens or Red Shield huts.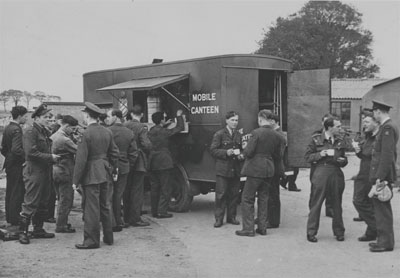 It endured, writes Scott Young in his Red Shield in Action, "because so often The Salvation Army provided the reassuring link between the fighting man and his old world of peace and kindness and sanity."

For the contribution of nearly 60 Red Shield supervisors, at home, in England and at the front, and for that of the thousands of non-professional Salvationist volunteers at the huts, the Canadian people were extremely grateful. Sixty-seven million soldiers had taken part in Red Shield activities, 170 million had visited their canteens and nearly two million had slept in their leave hostels. Along with the other auxiliaries—the YMCA, Knights of Columbus and Canadian Legion—The Salvation Army had played a strategic role in the successful conclusion of that horrific war. And it was that role which made Sally Ann household words, its Red Shield becoming a national symbol of its wartime work.

Happy 150th, Canada!

"The Salvation Army saw a need and met it." That comment, so often used, aptly describes the Army's 135 years of community service in a nation that this year celebrates its 150th birthday. Sometimes, as the examples offered above show, when the need is satisfactorily met and society, for a variety of reasons, no longer requires a continuation of the service, The Salvation Army moves on to meet other needs.
That it will continue to do so has been made obvious by its response to the flood in High River, Alta., and the Fort McMurray, Alta., fire. At Canada's 200th anniversary, it is likely that another essay of this sort will be written to extol many other new avenues of community outreach (but not by me!).

Salvation Army historian R. Gordon Moyles is the author of The Blood and Fire in Canada and Glory! Hallelujah!: The Innovative Evangelism of Early Canadian Salvationists, available at store.salvationarmy.ca.
---
The Salvation Army in the Canadian Community: A Timeline of its Significant Outreach Services
1882 The Salvation Army is officially launched in Canada, pioneered by such enthusiasts as William Freer, Walter Bailey, and Jack Addie and Joe Ludgate
1887 The first Salvation Army rescue home (for "wayward" girls) is opened on Farley Avenue, Toronto, with Captain Susan Jones in charge. By 1890, similar homes had been established in at least nine major Canadian cities
1890 The establishment of the Army's first prison-gate home in Toronto marked the beginning of its men's social service and, in particular, of its after-prison care work
1892 The league of mercy (now known as community care ministries) is established as a lay ministry to local hospitals, jails and other social institutions
1893 The Army takes over Joe Beef's Canteen in Montreal and turns it into the "Salvation Lighthouse," a hostel for working men
1894 The Army establishes a social farm at Little York, Toronto, as a rehabilitation centre for the men who take advantage of its after-prison services
1897 Commissioner Eva Booth convenes a "mammoth" Armenian Demonstration in Toronto's Massey Hall to highlight the plight of the many refugees fleeing the effects of the recent Turkish massacre of Armenians
1900 The first Salvation Army fresh-air camp in Canada is held at a site on the Red River for the underprivileged children of Winnipeg, marking the beginning of many such camps across Canada
1901 The Salvation Army recommends to the Canadian government that a system of prisoner probation be adopted, resulting in Canada's first parole program
1902 The first Salvation Army Christmas kettle appears on the streets of Ottawa, seeking public support for its "Christmas hamper" program, still a prominent feature of its social services
1904 The Salvation Army's immigration department is created with Brigadier Thomas Howell in charge. It is the beginning of a 30-year program, which saw more than 110,000 British emigrants brought to Canada by the Army Brigadier W.P. Archibald resigns his Salvation Army commission (with the Army's blessing) to become Canada's first Dominion parole officer
1905 The S.S. Vancouver leaves Liverpool, England, with 1,000 British emigrants, the first of 11 ships chartered by the Army to transport its sponsored settlers to Canada
1906 Winnipeg's Grace Hospital, the first accredited Salvation Army maternity hospital, is officially opened. Nine more would follow in Canada's major cities
1914 With the outbreak of war, The Salvation Army mobilizes. Adjutant Robert Penfold becomes the first Salvation Army chaplain with the Canadian Expeditionary Force. Five more chaplains follow 1915 Five motor-ambulances are presented by the Canadian Territory to the British military for service on the Russian Front
1917 Formal opening of the Army's new training college on Davisville Avenue in Toronto; it is then handed over to the Canadian government to be used as a military hospital The Salvation Army plays a major role in the rescue efforts following the Halifax Explosion—the greatest pre-atomic explosion known to man—during which 2,000 died, 8,000 were injured and 10,000 left homeless. This marked the beginning of the Army's emergency disaster services
1939 With the declaration of war, The Salvation Army again mobilizes its forces to assist the war effort, this time becoming an official auxiliary of the Canadian military. More than 50 "auxiliary officers" and thousands of volunteers serve in its many Red Shield huts at home, in England and at the front
1949 The liner Noronic burns in Toronto Harbour with much loss of life; Salvationists play a prominent role in the rescue and relief operations
1954 Salvationists assist in the relief operations when an area of Toronto is devastated by hurricane Hazel
1956 Extensive relief work is undertaken by the Army after the Springhill, N.S., mine disaster
1961 The Salvation Army anti-suicide bureau is established
1997 Salvationist volunteers from across Canada descend on Winnipeg to provide practical assistance in the wake of the Red River flood
2001 Some 65 Canadians are part of five teams that work at Ground Zero after the terrorist attack on New York City's Twin Towers
2016 An emergency disaster services response team, along with four community response units, are deployed to deal with the physical and emotional trauma of the Fort McMurray, Alta., fire