There are many things that are learned about life, success and hard work through kicking around a ball on the soccer field. Toronto's Bloor Central Soccer Club (BCSC)— with the assistance of a Salvation Army thrift store—is helping to teach those lessons to underprivileged children.
Each year, the BCSC, which is operated by The Salvation Army's Bloor Central Corps (church), works closely with almost 300 kids in Toronto's Parkdale area. Five years ago, The Salvation Army's Bloor Street West thrift store took the opportunity to assist them through an in-store fundraising campaign.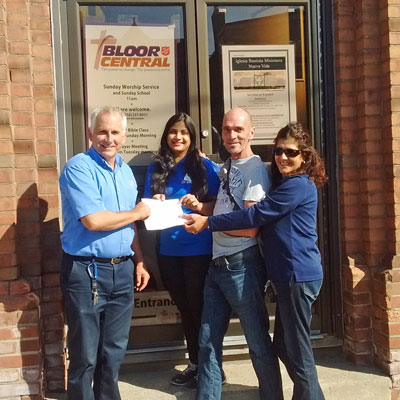 "This is a program we've seen grow over the years," says Kyle Brennan, thrift store manager. "This campaign is personal for the community. They can walk by the local school, see the kids practicing and see for themselves how this is helping."
Last summer, the thrift store raised more than $3,000 to keep the soccer program kicking for the community. Two hundred and fifty-four children, ranging in age from seven to 12, participated in the soccer camp.
"We're happy to have done so well, and we're also grateful for support from our Queen Street store," Kyle says. "It's rewarding to see these kids enjoying soccer. Parents who visit our store can see the benefit and get their kids signed up, too."
"We wanted to take this challenge to help families in our community, and we're excited to have contributed and raised awareness," says Kalpita Thakore, the Army's Queen Street thrift store manager. "This year, our team is looking forward to supporting the soccer program again."