Toronto's Roy Thomson Hall was filled with twinkling lights, classic carols, and choral and brass music for this year's Christmas With The Salvation Army. An annual tradition for the Army, the concert took place on Saturday, December 3, and featured music from the Canadian Staff Band under the leadership of John Lam; the Canadian Staff Songsters led by Major Len Ballantine, artistic director of Christmas With The Salvation Army; and special guest Canadian soprano Measha Brueggergosman-Lee.
The two-hour event was hosted by Lt-Colonel John Murray, secretary for communications, and included a lively mix of classic Christmas songs and new compositions, including The Waiting World by Captain Nicholas Samuel, corps officer at London Citadel, Ont., and The Star by Marcus Venables, assistant territorial music secretary, both performed by the Canadian Staff Band.
The Canadian Staff Songsters presented a variety of songs, including Randall Thompson's Alleluia, and Sing a Song of Christmas, with words by Ian Adnams and music by Major Len Ballantine, and led the congregation in carols accompanied by organist Ian Sadler.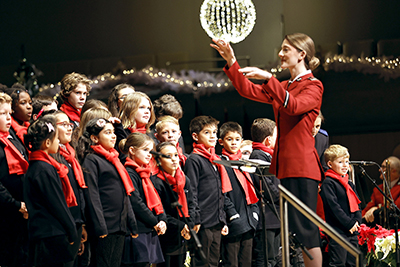 Throughout the night, Brueggergosman-Lee, supported by jazz trio Aaron Davis, Marito Marques and Scott Alexander, blessed the audience with energetic and stirring performances of Christmas favourites such as Do You Hear What I Hear? and The Little Drummer Boy, joined by both the staff band and songsters.
The program also featured Toronto's Yorkminster Citadel Singing Company under the direction of Alexandria Venables, and a colourful timbrels presentation with sparkling timbrels and a confetti canon, led by Melody Cameron.
The event was not only a night of spectacular music, but also an opportunity to raise awareness of the work of The Salvation Army across the Canada and Bermuda Territory. A video produced by the territorial communications department shared client testimonies from various ministry units, and the mission and impact that The Salvation Army has had on communities in 2022.
"Christmas With The Salvation Army seeks to embrace the 'withness' of Christmas," said Commissioner Floyd Tidd, territorial commander, in his message on the gift of presence. "Christmas With The Salvation Army extends beyond tonight's program. It extends to 400 communities across Canada and Bermuda, where Christmas with The Salvation Army will look like families who gather around a table for a meal and toys for children that might not otherwise have them. It means a safe place to sleep for those experiencing homelessness, and for those struggling with addictions, it will reaffirm that there is hope for a brighter and freer tomorrow.
"This Christmas, let us consider the gift of presence," the commissioner continued. "And with the same careful attention, let us consider the gift of the presence of God that he has offered in Christ to each of us. God is with us and we are not alone."
Watch the concert: