(Above) Army personnel pack deployment kits at territorial headquarters in Toronto. (From left) Dan Millar, manager of EDS operations and partnerships; Perron Goodyear, territorial director of EDS; Vanessa Pérugien, manager of preparedness and disaster risk reduction; Alishia Ivany, territorial manager of EDS training and planning; Eden Schwartz, emotional and spiritual care intern; and Sara McKegney, administrative assistant
During Emergency Preparedness Week in May, the Government of Canada announced $150 million in funding to support non-governmental organizations (NGOs) in their humanitarian response to COVID-19 and other large-scale emergencies. The funding will support capacity building and domestic response resources to four of Canada's top emergency management NGOs: The Salvation Army, Canadian Red Cross, St. John Ambulance and the Search and Rescue Volunteer Association of Canada.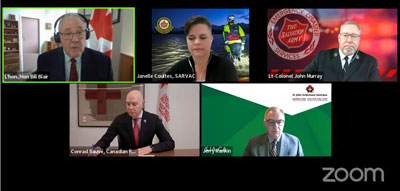 The Salvation Army's emergency disaster services (EDS), in partnership with public affairs, information technology and finance, applied for this funding as a part of the humanitarian workforce program (HWP) to assist with capacity building in four key areas: volunteer management, training and recruitment, deployment and personnel.
The application for project Operation: Red Shield Readiness was accepted, marking the single largest investment in EDS in the history of the Canada and Bermuda Territory. Work quickly began on various projects to increase the Army's ability to support any request for federal assistance.
This included purchasing supplies and equipment for training kits to better equip divisions for EDS training in their respective areas. Each training kit includes tablets for participants to use, eliminating the need to print participant materials, in support of the Army's positional statement on caring for the environment.
Supplies were also secured for deployment kits, including personal protective equipment, to provide to deployed personnel.
"Since the Halifax Explosion in 1917, The Salvation Army has been there for Canadians facing emergencies of all sizes," says Commissioner Floyd Tidd, territorial commander. "From the British Columbia floods to ongoing emergency response in the face of COVID-19, support from the HWP helped us serve more Canadians last year than ever before, filling urgent needs, providing hope and letting people know they're not alone."