What are the chances of a gangly, soccer-loving Cameroonian who lived almost 10,000 kilometres from Toronto standing underneath the basketball net at the Air Canada Centre, proudly sporting a Raptors jersey with his name on it? Insurmountable? Well, Pascal Siakam did it.

"Who I Am"
When Pascal moved from Cameroon to North America in 2012, he learned more languages than just English. He also became fluent in trash talk and social-media communications. On Twitter, he's not only generous in sharing his stylish fashion photos and videos of verbal sparring with teammate Jakob Poeltl, but he openly shares how his faith has helped him ride out the roller-coaster that is his basketball journey thus far.

"Believing in God is a big part of who I am," he says.

When he was assigned in March 2017 to the NBA G League's Raptors 905, Pascal posted on his Twitter feed: "In due time. Until then just grind. Whoever counted you out can't count." A few weeks later, he wrote, "Patience is trusting in God's timing."

Not long after that, Pascal played a major role in helping the 905 win the league championships and hoisted the MVP trophy to prove it. In October, the Raptors signed him to the end of 2019.

"Happy Birthday, Dad!"
Growing up, Pascal's first love was soccer. He played basketball just for fun but was good enough to get invited to the Basketball Without Borders camp in South Africa in 2012. It was there that he first met his future Raptors teammate, Serge Ibaka, who was originally from the Democratic Republic of Congo and was working as a camp counsellor. It was also there that basketball became Pascal's passion, and being in the NBA went from just a dream his dad had for him to one of his very own.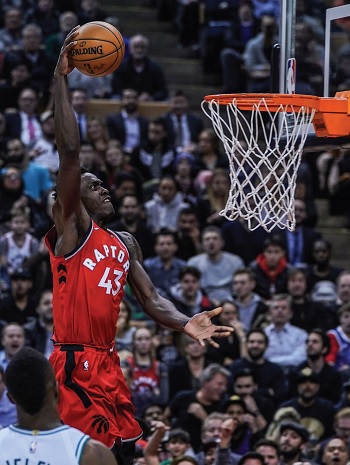 He was recruited by a coach from God's Academy, a high school in Lewisville, Texas. Pascal speaks excellent English now but barely spoke any at the time and had never left Africa before. His dad encouraged him to pursue this new opportunity. At this point, all three of his older brothers were playing, or had already played, college basketball in North America. It was a real culture shock for the 16-year-old, but Pascal says he never once considered giving up.

Recruiters had noticed him because of his natural talent and athletic ability, but now he had to learn the game. He wanted to silence the teammates who kept teasing him, so he put in a lot of solo hours working on his shots and got better every match.

Pascal went on to play for New Mexico State University, but just before his first game in October 2014, he got a life-changing call. His father had died as the result of injuries suffered in a car crash back home. Somehow, Pascal fought through his heartbreak and showed up for the game, but this was a turning point for him. Instead of playing to prove himself to the naysayers, he was now playing to make his dad's dream of having a son in the NBA a reality.

"I wanted to make him proud and give him this gift," Pascal wrote in The Players' Tribune.

He played two years for New Mexico, then, after working out with various NBA teams, he decided to declare for the draft. He had received varying feedback, some suggesting he play out his two years of college eligibility and others saying he should play in Europe for a season, but he had confidence in his skill level that he had worked so hard at. He was taken by the Toronto Raptors as the 27th overall pick.

Pascal's Twitter bio reads: "God first. #RipDad #DoingItForYou." On July 7, 2016, he posted: "I made my dad's dream come true by signing my first NBA contract on his birthday. Happy birthday, Dad!"

All Work and No Play …
As a rookie player in the big leagues that year he sometimes found himself in over his head. When he was assigned to the G League in the spring, he used that time to get more comfortable with the game.

"I learned to just go out and do my job," he says. "I always knew that if I kept working hard, things could change. You have to be tough mentally to be able to handle ups and downs, and keep moving forward."

Pascal takes the responsibility of representing not just the City of Toronto but the entire country of Canada in the NBA very seriously.

"Our fans create great energy," he smiles. "I spent my summer working on my game, being a better playmaker overall, working on my shots, watching film, changing little things, learning and improving by inches. I feel a lot more comfortable on the court. I know what's going on and what to expect a little better."

It's not all work and no play for Pascal. In his downtime, he enjoys hanging out with Jakob, his teammate from Austria.

"We were drafted the same year, and he's a hard worker like I am," Pascal says. "We like practising together but also just hanging out, encouraging each other. Our trash talk is all for fun, because we are more competitive with each other on my FIFA video game than on the court … but I'm definitely the better one at FIFA!"


---

What's in a Number?
"Every time I enter the game," says Pascal, "I touch the number '4' on my jersey four times for my dad and three brothers, then I touch the number '3' three times for my mom and two sisters, then I cross myself for God and point up to the sky. I know my dad is watching. It's definitely tough without him, every day, but knowing I am doing exactly what he wanted gives me the strength."