In November and December, The Salvation Army held various Hope in the City (HITC) events across the territory, to inspire guests, raise funds and increase awareness of the Army's work at Christmas and throughout the year.
In Calgary, a packed banquet hall enjoyed hearing from Paul Brandt, Canadian Country Music Hall of Famer and humanitarian. In his keynote speech, Brandt discussed the issue of human trafficking. The HITC breakfast in Winnipeg took a similar theme, as human trafficking survivor Victoria Morrison shared her personal story of how she was trafficked and eventually helped by The Salvation Army.
Vancouver's 18th annual HITC event featured Arlene Dickinson, a Canadian businesswoman best known for appearing on CBC's
Dragon's Den
. Around 1,200 guests gathered to hear from Dickinson, whose story of hope stems from her own childhood living in poverty. The Honourable Janet Austin, lieutenant-governor of British Columbia, spoke at HITC in Victoria. The second annual event in that city featured the presentation of the Hero for Hope award to Eric Maze, the first winner on Vancouver Island.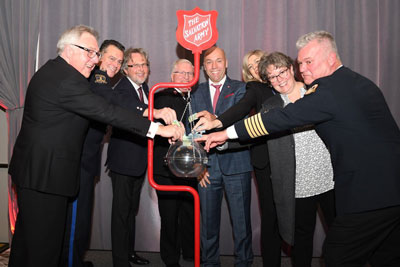 Guests in Ottawa, Toronto and Barrie, Ont., heard from Olympian Jeremiah Brown, who trained to be a silver medal-winning rower in just four years. Events in London and Hamilton, Ont., also featured a keynote from a well-known professional athlete, Jim Kyte, the only legally deaf player to ever play in the National Hockey League. Along with presenting Kyte, the HITC breakfast in London served to raise awareness around the autism spectrum disorder.
Hundreds of people attended the fifth annual HITC event in Windsor, Ont., which featured local author Rosita Hall. During her inspiring speech, Hall shared life lessons and encouraged everyone to find a way to serve others.
Guests in Edmonton heard testimonies from two Red Seal chefs who were able to overcome their addictions, thanks to the Army. James Hansen and Jay Barnard, who is known as "Chef Recovery," shared their life-changing experiences with Salvation Army treatment programs in Edmonton and Ottawa, respectively.
In Eastern Canada, Senator Stan Kutcher shared the importance of offering compassion, commitment and community to enhance our own mental health and that of others while speaking at HITC in Halifax. In Newfoundland and Labrador, a sold-out crowd in St. John's enjoyed a presentation from Peter Halley and Shelley Neville of the Spirit of Newfoundland musical theatre company.