(Above) Mjrs David and Beverly Ivany share a moment with Comrs Benjamin and Grace Mnyampi, international secretary and zonal secretary for women's ministries, Africa, during their visit to Kenya

In addition to the Partners in Mission fundraising campaign, the world missions department co-ordinates opportunities for sharing resources and expertise to support the international work of The Salvation Army. Here we highlight three recent initiatives—internal audit support in Zambia, a holiness seminar in Kenya and a College for Officer Training course in Zimbabwe—as recounted by officers from the Canada and Bermuda Territory.

Kenya East Territory
by Major Beverly Ivany
I was privileged to be invited as the guest speaker to the very first holiness seminar for soldiers in Africa, held in February 2018. My husband, David, also came, which added flavour and a different perspective on the meaning of holiness.
At that time, I was the writer of The Salvation Army's daily devotional book, Words of Life. It was a great honour to meet and quickly get to know delegates from all over the African continent.
I shared with them how we can live out holiness in our daily lives, as God's people, and how we can help others to do likewise.
When delegates were given insight as to what holiness is all about and how it relates to their spiritual walk, they suddenly became on fire for the Lord. By the end of the week, they were anxious to go back and share all they had learned with others in their cities and communities. Most of the Salvationists we met came from humble backgrounds. Many were poor according to our standard of living. But the joy in their hearts was infectious! It was so enriching to be part of this beautiful experience. I pray on a regular basis for my new friends in Africa. God has opened my eyes to see how blessed I am. I long to have a giving, open and joyous heart—now and always.
Major Beverly Ivany is a pastoral services officer in the Canada and Bermuda Territory.
Zambia Territory
by Major Alison Cowling
As part of the General's Accountability Movement, International Headquarters established a partnership with the Canada and Bermuda Territory to develop and resource the internal audit function in mission-supported territories.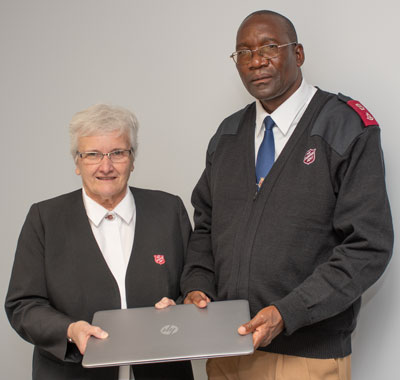 In my capacity as the assistant chief secretary, in January 2018, I journeyed to Zambia with Astra Williamson, director of internal audit, to assess the effectiveness of the local Salvation Army's internal audit function, help develop a robust internal audit department and provide risk-management training. We quickly became aware that the internal auditor, Major Wilson Chiwoya, is well qualified for his assignment, but that he was in desperate need of a computer and other basic equipment for the audit office. Thanks to the financial assistance of Canada and Bermuda's world missions department, we were able to support him with new equipment, including a computer and printer.
Moving throughout the country, we were surprised by the poverty, the lack of resources, long distances that separate corps and social centres from divisional and territorial headquarters, and the isolation endured because of roads that are almost impassable. Yet in the midst of these realities, we found the joy of the Lord.
As part of our territory's commitment to provide ongoing mentoring, monitoring and support to the Zambia Territory, we were able to bring Major Chiwoya to Canada this past January to continue his training.
"It was a shock arriving at the airport!" he says. "It was very cold, but the people were so friendly."
Major Chiwoya is quick to point out that he is not the only one who will benefit from his time in Canada. "My coming here means I am being imparted with knowledge, which is a wonderful thing," he says. "What I learn will be shared with the people back home, such as how I can best carry out the audit process and reach an internationally acceptable standard of auditing."
The relationship established between Major Chiwoya and our audit team is proving to be invaluable now that he has returned home. He has a network of people that he can reach out to at a moment's notice for guidance and answers to any questions he may have.
We are encouraged and blessed by the resilience and commitment of both officers and soldiers who work with so little to achieve the best outcomes possible. We pray that as we work together, we will continue to learn from each other and be good stewards of God's resources.
Major Alison Cowling is the assistant chief secretary in the Canada and Bermuda Territory.
Zimbabwe and Botswana Territory
by Majors David and Brenda Allen
We had the privilege of going to Zimbabwe in February 2018 at the request of the territorial commander and the College for Officer Training in the Zimbabwe and Botswana Territory to teach a course on the doctrine of holiness for their 35 cadets. Then the training principal (David) and director of spiritual formation (Brenda) at the training college in Winnipeg, we were delighted to teach a subject about which we are both so passionate.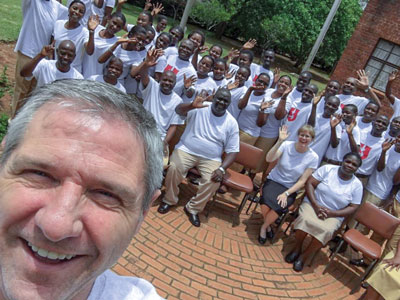 The objective of our visit was to provide life-bringing teaching on holiness to the cadets in the early stages of training, an opportunity not easily provided even for the experienced officers in their territory. The course offered a combination of lessons from our Wesleyan heritage and Salvation Army traditions with a practical application of how holiness is lived through the context of community. The week of teaching was received with great enthusiasm and thankfulness. At the end of our time together, the cadets relayed to the training principal, Major Julius Omukonyi, that the teaching had not only changed them, but will, through their ministry, touch thousands.
We, too, were challenged and inspired through our time together. A particular highlight was when we invited the cadets to share short "magnify moments" which reflected a characteristic of God. Many times we were overwhelmed by the powerful word of truth they shared with clarity and confidence. The cadets love God and know the Word. Their beautiful singing reminded us that the gift of song is good for the soul and that we are told in Isaiah 61:3 to put on "a garment of praise." The cadets' singing reminded us to do this daily.
We rejoice in the dedication and discipline of cadets from this beautiful territory. Many come to the training college with Bibles that have been borrowed or passed down from family members. In visiting their modest cadet quarters, we noted that book collections were limited most often to their Bibles and notepads, yet their wisdom, insights and dedication to God's Word is admirable. Booklets we provided on a "Heart of Holiness" are now included as a personal resource, for which we give thanks. We have been reminded that God's Word is alive and, while helpful, many books are not required to shape the life, testimony and walk of a believer.
Majors David and Brenda Allen are the corps officers at North York Temple in Toronto.