On Sunday, September 20, Commissioner Floyd Tidd, territorial commander, presided over a special livestreamed service to welcome 16 cadets from the Messengers of Reconciliation Session, one field-based tailored training (FBTT) cadet and two newly accepted auxiliary-captains. With ongoing travel and social-gathering restrictions due to the COVID-19 pandemic, participants came together virtually from the College for Officer Training (CFOT) in Winnipeg, territorial headquarters in Toronto and other ministry locations across Canada where the FBTT cadet and auxiliary-captains are serving.
The service began in Toronto, with words of welcome from Colonel Edward Hill, chief secretary, who introduced the territorial commander. Colonel Shelley Hill, territorial secretary for women's ministries, prayed God's blessing on the meeting and those beginning their period of training to be officers in The Salvation Army. "Encourage their hearts," she prayed, "as they encourage others through their service."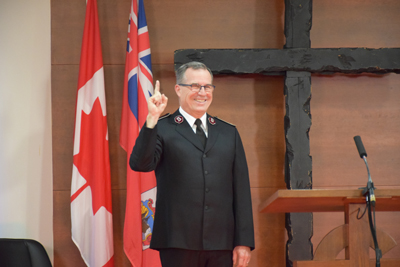 Attention then turned to Winnipeg, where the cadets marched into the CFOT chapel behind the sessional flag of the Messengers of Reconciliation, carried by Cadet Justin Russell. Later in the service, the flag was dedicated to God's glory by the territorial commander. Making their way to the platform, the cadets paused in front of a large screen to salute Commissioner Tidd, who acknowledged them and the FBTT cadet and auxiliary-captains from their locations, via livestream from Toronto.

Following the presentation of the cadets and officers in training by Major Jennifer Hale, secretary for candidates, Lt-Colonel Brian Armstrong, secretary for personnel, shared words of encouragement with them. "You come to CFOT alone, and you come together," he said. "You come alone in that each of you has responded to God's call in your life. Together you will grow in fellowship with one another, you will care and support one another, and you will encourage one another on your journey."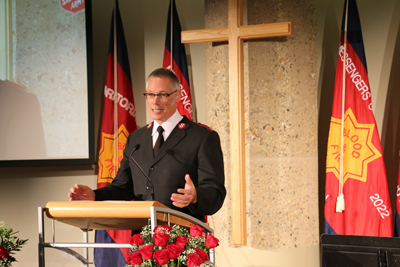 In her testimony, Cadet Dunia Molinar Fehr shared how she came to The Salvation Army through the food bank at Yorkwoods Community Church in Toronto, where she started attending and working in the community and family services office. Over time, and with the encouragement of her corps officers, Cadet Fehr sensed the call of God on her life to serve as an officer. "During my prayer time, God reminded me to be faithful, humble and obedient," she said, "and I realized that God was working in my life, transforming me and preparing me for the days to come. He will never leave me alone."
Throughout the welcome service, pre-recorded testimonies from the cadets and officers in training were presented as they shared their hopes for officer training and Scripture verses that have been important to them as they prepared to come to the CFOT.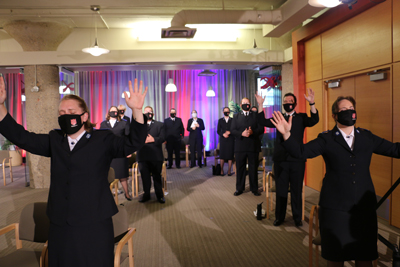 In his message, Commissioner Tidd drew from the story of Jonah as he reflected on the mission that is now before the Messengers of Reconciliation, to share God's love with the world. "It is to those who are alive in Christ that he gives the message of reconciliation," he said, to be taken into the world in partnership with God as he reconciles the world to himself. "Go and proclaim the message God gives you."
Major Roxanne Jennings, director of personnel, brought the service to a close and pronounced the benediction.


---