On Sunday, September 20, the Canada and Bermuda Territory will welcome 16 cadets in the Messengers of Reconciliation Session to the College for Officer Training in Winnipeg in a special livestreamed welcome service. Over the next 22 months, these Salvationists will be trained and equipped for service as officers in The Salvation Army through biblical study, spiritual formation and practical work experiences across the territory. The service will also include the recognition of one cadet who has been accepted into the field-based tailored training program, and two newly accepted auxiliary-captains. Read more about our new cadets below.
Accepted for Training as Messengers of Reconciliation (2020-2022)
College for Officer Training, Winnipeg
Janelle Colbourne
Chatham-Kent Ministries, Ontario Division 
After truly surrendering my life to God and his will for my life, he revealed his plan of officership. I am thankful for the people who have supported me and walked with me to this point in my life. The Lord is faithful, and I look forward to seeing how God will continue to work in my life as I start my journey as an officer.


---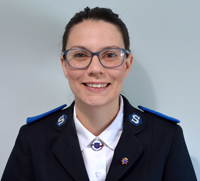 Kerrin Fraser
Powell River, British Columbia Division

I have felt called to ministry from a young age. While I didn't always attend The Salvation Army, I married into an Army family. Tim and I started going to Grande Prairie Community Church, Alta., and I was enrolled as a senior soldier. When we moved home to Powell River, B.C., we attended the corps there, and I am grateful for our family, friends and corps officers who have walked alongside, guided and supported us to where we are today. Officership is a call to more than who you are as a Christian. It is an opportunity to serve the lost and hurting, and to share the love of Jesus in the communities where we are appointed.


Tim Fraser
Powell River, British Columbia Division

Becoming an officer has been a call on my life for quite some time, but it was during our time in Grande Prairie, Alta., that Majors Daniel and Glenda Roode, then our corps officers, challenged us to consider officership. When my wife, Kerrin, and I went to an Officership Information Weekend in 2014, God clearly told me, "Not yet." I felt as if I was waiting for a green light so I could follow his path, but God knew that it wasn't time and that we were needed back home in British Columbia. A year later, Kerrin's father passed away and we understood why we had needed to wait. It's now five years later, and it's time. The light is green, and I am ready and willing to start this journey. 


---


Jessica Hoeft
Trail, British Columbia Division

God has been calling me to officership in various ways throughout my life, but I was opposed to this prospect. Over time and through various people and opportunities, the Lord broke down the barriers I had erected in my defiance and opened my heart to see his Spirit leading me. I commit fully to the calling of God to be his hands and feet in the world and to bring his grace and love into the lives I will have the pleasure of journeying alongside as an officer.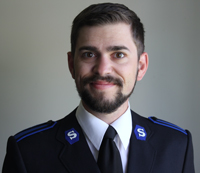 Nathanael Hoeft
Trail, British Columbia Division

I discovered my call to officership while spending my teens and early adulthood in Winnipeg, where the College for Officer Training is located. This helped me grow in my understanding of what it means to be an officer and how desperately they are needed. I also saw that those coming into the CFOT were normal people and not superheroes. In staying connected with them through the years, I have seen that God uses those called to him to do amazing things. To me, officership is a vocational calling to act justly, love mercy and walk humbly with God (see Michah 6:8).


---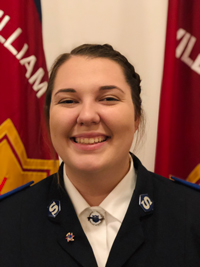 Julia Marshall
Halifax Citadel Community Church, Maritime Division

Officership is a privilege that not all are able to pursue. I am blessed to have the opportunity to pursue full-time ministry and I thank God for his provision. Several officers have poured into my life since childhood and I am grateful for the example of Christ's love they have shown me. I continue to carry the influence of my grandmother, Major Ruby Gullage, in all ministry I do.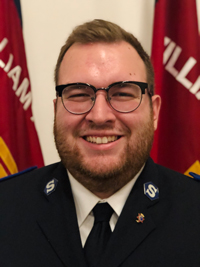 Zachary Marshall
Heritage Park Temple, Winnipeg, Prairie Division

When I first accepted the gift of salvation, I felt a call to officership. Years later, I understood that the Holy Spirit was nudging me closer to the reality of what it means to live in full surrender to the will of God. Being a Salvation Army officer means that I am tasked with extending the kingdom of God here on earth and charged to clothe the naked, feed the poor and be a voice for the voiceless.


---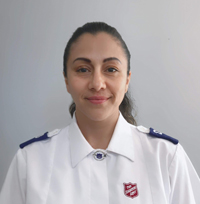 Dunia Molinar Fehr
Yorkwoods Community Church, Toronto, Ontario Division

My time at the College for Officer Training will give me the academic preparation I need to be an officer. I am grateful for the opportunity to do what has always been my desire, to serve God and others using the gifts and skills he has given me. The Salvation Army has plenty of doors that God can open to accomplish his plans. Being an officer means surrendering my life to God to spread the gospel and make disciples as he commanded.


---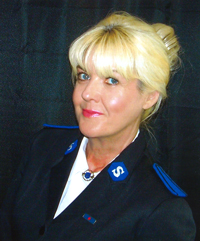 Pamela Poirier
Cascade Community Church, Abbotsford, British Columbia Division

I love The Salvation Army and expect that by going to the College for Officer Training I will learn how to effectively engage in the mission of God. I'm entering officership for the purpose of serving and reaching the least and the lost.


---


Tamara Randlesome
Renew Church, West Kelowna, British Columbia Division

My call to officership has been a journey of God using different people and seasons in my life to reveal what has always been there. It was after a time of utter brokenness when God started to call me out of my comfort zone and into the call he has placed on my life. With God leading, he used my corps, my family and the prayer room at my former church to bring his will to light.


---


Joshua Rideout
Park Street Citadel, Grand Falls-Windsor, Newfoundland and Labrador Division

I see the College for Officer Training as a community of intelligent and empowered people who love Jesus and who will encourage and teach me to effectively share the gospel message. Officership is a unique calling that provides the privilege of embodying the church in practical ways to restore hope and justice, and to ultimately build the kingdom of God on earth.


---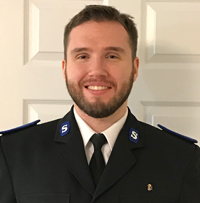 Matthew Rideout
Pathway Community Church, Paradise, Newfoundland and Labrador Division

God has worked through many people and situations to help me hear his call on my life to be an officer. What helped make it very clear was when I attended a leadership conference in the then Ontario Great Lakes Division. The divisional youth secretary, without speaking a word, gave me an application for an Officership Information Weekend. One week after the leadership conference, I attended a youth event during which the guest officer, who had also spoken at the leadership conference, said specifically that more than 30 people in attendance would become officers. The call for me was clear. I knew what God was saying.


---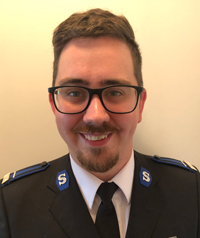 Justin Russell
Heritage Park Temple, Winnipeg, Prairie Division

Ever since the age of 12, I have felt God calling me to serve him as a Salvation Army officer. There have been many people who have helped me along my journey and inspired me in a significant way, including my parents, my former corps officers in Fredericton and Winnipeg, and former divisional youth secretaries. Scotian Glen Camp, in the Maritime Division, is where my relationship with Christ really grew and took shape into where I am today.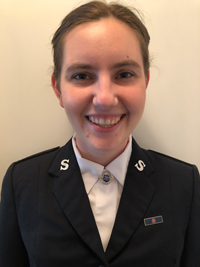 Kaitlin Russell
Heritage Park Temple, Winnipeg, Prairie Division

I am a first-generation Salvationist who joined The Salvation Army at the age of 13. Before going to university, I had an experience that was comparable to Jacob wrestling with God. I sensed God telling me that I should consider officership, but I did not understand what that meant, so I fought against it. I remember my parents dropping me off at Booth University College in Winnipeg, a whole province away from my home in Orillia, Ont., and I wondered why I had chosen to move there. I quickly learned that officers trained in Winnipeg and realized I was in that city for more than a degree. Within weeks, I had a significant God experience at a worship night hosted by the college, and I knew that God was calling me to officership.


---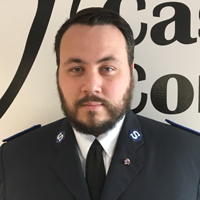 Brian Williams
Cascade Community Church, Abbotsford, British Columbia Division

When I was a contrary teenager at Cedarbrae Community Church in Toronto, my corps officer at the time, Lt-Colonel Boyde Goulding, said I was "sure to be an officer one day." I worked at Jackson's Point Camp in Ontario for seven summers because I believed in the ministry there, but ignored the voice inside telling me that I was being called to vocational ministry. I pursued a career in the trades, but I was miserable and asked God, "Why can't I just work at camp for the rest of my life?" He answered that my calling was to win souls for the kingdom, not weld conveyor belts together. I took a leap of faith into full-time ministry and God helped me to practise obedience again and again until I was ready to admit that Lt-Colonel Goulding had been right.




Natalie Williams
Cascade Community Church, Abbotsford, British Columbia Division

I first experienced God's call to vocational ministry when I was 14 years old. Shortly after that, I was introduced to The Salvation Army when I worked at Jackson's Point Camp. Those three summers were deeply formative for me. Even though I was affiliated with different churches and organizations, I continued to carry the values I had picked up working with The Salvation Army as I went to Bible college, became a pastor, then worked with urban missions and Christian camping organizations for 10 years. When my husband began to acknowledge and explore his own calling to ministry, we sensed that God was calling us "back home" to join the work that God is doing in and through The Salvation Army.


---
Accepted for Field-Based Tailored Training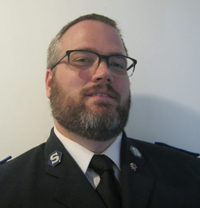 Brian DeBoer
Cornerstone Community Church, Mississauga, Ontario Division

In seminary, I learned a lot of theology and theory for ministry—head stuff. I hope to continue learning through field-based tailored training to be able to serve God even more deeply—with my heart. I joined The Salvation Army because it prioritizes what I feel is the heart of God's mission: saving souls, reaching the poor, and holiness. Officership will help connect my passion for the gathered body of Christ with a sense of relevance by being the hands of Jesus.


---


Accepted as Auxiliary-Captains


Jamie Anstey
Labrador West, Labrador City, Newfoundland and Labrador Division

From childhood, my parents encouraged me to be involved in the church. The support I received from my corps officers and leaders led me to a relationship with God and helped me to discern his will and calling for ministry. After working with community and family services for more than 14 years, I knew I needed to continue my ministry through the avenue of officership. I look forward to sharing the good news and providing hope to a world in need.


---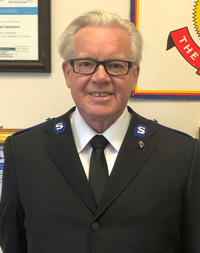 Robbie Donaldson
Woodstock, Ontario Division

In 2015, I was in financial, mental and spiritual turmoil, so I went to a Salvation Army food bank for help. They gave me more than food that day, and I knew I had to attend church on Sunday. While singing Amazing Grace, I cried with guilt and shame for blocking the Lord from my life for 47 years. I knew Jesus as a child but had drifted away. I began to pray and read Scripture, and my life was changed when I accepted Christ back into my life. I became a senior soldier in 2016 and started working for The Salvation Army. God has called me to share his message of reconciliation as an officer and to befriend the marginalized he brings into my life.