(above) Back, from left, Roberto Morsen, Cpt Graciela Arkell, Simon Gough, Cpt Jeff Arkell, Lt Alecia Barrow, Aux-Lts Mirna Dirani and Tharwat Eskander. Front, from left, Celina Cruz, Sherman Wu, CSM Susan Taylor, Judy Mansfield, Janette Brown, Kathleen Griffiths, Lt-Cols Brenda and Shawn Critch, and Mjr Robert Russell
Three Salvation Army corps in Mississauga, Ont., including Mississauga Temple, Erin Mills Corps and Cornerstone Community Church, have merged to become one corps operating at three sites.
Encouraged by the territorial vision statement to be an innovative partner mobilized to share hope and build just communities, the corps came together, united in mission and positioned for growth.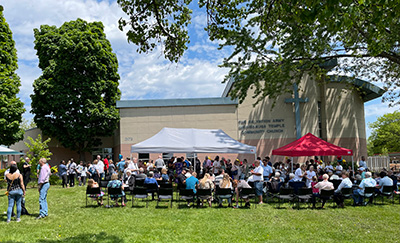 "We believed we were being led by God in this direction," says Susan Taylor, director of corps ministries in Mississauga. "It is our hope and prayer that as one Army together, we will be stronger to spread the love of Jesus to the City of Mississauga."
The three sites at Cawthra, Collegeway and Meadowvale will be led by Captains Graciela and Jeff Arkell, originally the corps officers at Mississauga Temple; Aux-Lieutenants Tharwat Eskander and Mirna Dirani, originally corps officers at Erin Mills; and Lieutenant Alecia Barrow, originally corps officer at Cornerstone.
Committed to the pillars of worship, evangelism, fellowship, discipleship and service, the new corps unit, now named The Salvation Army Mississauga Community Church, will bring Jesus to the neighbourhoods of Mississauga and see lives and communities transformed, embracing the unique expression of ministry in each corps location.
In May, Lt-Colonel Shawn Critch, divisional commander, Lt-Colonel Brenda Critch, divisional secretary for spiritual life development, and Major Robert Russell, area commander, Ontario Division, dedicated the new corps at a special service followed by a celebratory barbecue.
"These are exciting times and already we are seeing people reaching out together from all three sites," says Taylor. "We rely on God's guidance, believing with all our hearts that this is what we are being called to do."
This story is from: