Fifty delegates from across the Canada and Bermuda Territory gathered at the College for Officer Training (CFOT) in Winnipeg in October to explore their call to Salvation Army officership. Under the theme Kingdom Choices—Why Not You?, the weekend was filled with worship, preaching, teaching, conversation and prayer.
On Friday evening, Colonel Edward Hill, chief secretary, spoke from Proverbs 3:5-10, encouraging delegates not only to "stop, look, and listen" during the weekend, but also to respond to what God would have them do with their life.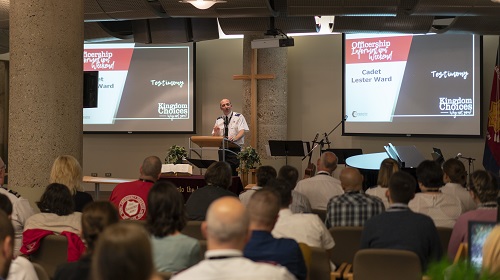 Commissioner Tracey Tidd, territorial president of women's ministries, shared at the Saturday morning chapel service. She noted that she can say one yes at a time because the invitation to respond to God's call comes with a promise that he will never leave us or forsake us.
Other sessions on Saturday included: an overview of the CFOT program, understanding the Officer's Covenant, adventures of Salvation Army officership, understanding the call, officer expectations, a tour of the cadet residences and a time for connecting with divisional secretaries for candidates and other divisional delegates.
On Sunday morning, Commissioner Floyd Tidd, territorial commander, took the delegates through the story of Gideon. He encouraged everyone present to step up to their identity in Christ, to step into a closer relationship with God, to step out in faith and be obedient to God's call, and to step forward for service.
"Many delegates left the weekend feeling affirmed in their call, and others left with a commitment to continue to work out God's plan and purpose for them," says Major Jennifer Hale, secretary for candidates. "We continue to be inspired at the movement of God across this territory as he calls people for service in The Salvation Army."