(Above) From left, Cpt Jon Savage, Herbie Kuhn and Mjr Christopher Rideout, divisional secretary mission resources, at the men's camp
Although men's ministry has always been present in Ontario, the division has rebranded to create a greater focus on uniting men in fellowship and discipleship. Now called "Ascent," Ontario's men's ministry follows the tagline, "For men, by men, united by Jesus."
"We wanted to make men's ministry a priority in Ontario again," says Captain Jon Savage, corps officer at St. Thomas Citadel and divisional men's ministry resource officer. "We want ministry units to be able to take on the name if they wish and create a space for men to be accountable, join in fellowship and Bible study, engage in real world issues and be intentional about discipleship."
In September, Ascent held its first annual men's camp since the rebranding. The men's camp is usually held in the spring, and after three years of pandemic-related cancellations, the camp returned for a weekend at Newport Adventure Camp in Utterson, Ont. Men from across the division were invited to take part and more than 100 men registered.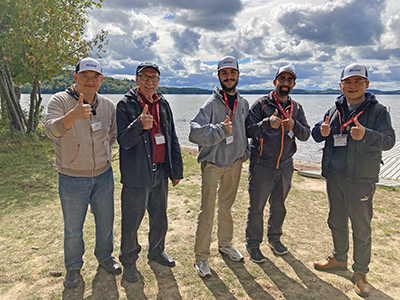 This year's program featured guest speaker Herbie Kuhn, announcer and co-chaplain for the Toronto Raptors, and chaplain to theToronto Argonauts and the York Regional Police. Based around Matthew 11:28-30 (The Message), discussions followed the theme of "unforced rhythms of grace," asking, "How do we adopt Jesus' offer to learn the unforced rhythms of grace where we work, learn, play and live?"
Kuhn spoke at three worship sessions throughout the weekend, with an open evening for testimonies from the men. On the Saturday, participants had free time to play golf, help with work projects around the camp, or go canoeing, kayaking and fishing. In the evening, many joined Kuhn to watch the Toronto Argonauts play the Ottawa Redblacks, while others enjoyed fellowship around the campfire or in the games room.
"Those who attended were able to walk away from the weekend with an understanding that Jesus will help us through an unforced rhythm of grace in our everyday activities. No matter what we are doing, Jesus is with us," says Captain Savage. "It was an amazing weekend to come together and worship, and have some fun and fellowship. We are looking forward to holding another men's camp next September."
(Photos: Billy Canning)