More than 500 people filled the parking lot of Suncoast Citadel in Goderich, Ont., in August, waiting to meet Prime Minister Justin Trudeau. The prime minister's visit to the corps was in support of the Huron County Backpacks for Kids program.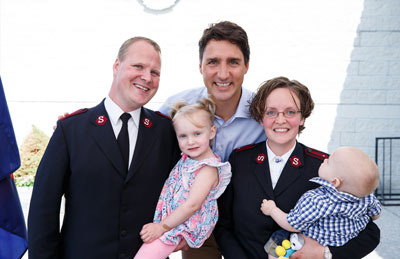 "We will assist about 300 students," says Lieutenant David Hickman, corps officer. "Children from low-income families often have fear about going to school and fitting in. Our program ensures they start school no different than anyone else."
"Canadians are there for each other at times of difficulty. That's who we are, that's what we do," Prime Minister Trudeau said. "It's certainly something that's at the core of The Salvation Army."
The prime minister chatted with staff and volunteers, while filling backpacks with supplies such as calculators, rulers, exercise books, highlighters, pens and pencils.
Trudeau ended his visit by thanking Salvation Army staff and the many dedicated volunteers for their work.
"If we're going to succeed as a country, everyone has to have that chance and your generosity, with your time, with your efforts, with your involvement, is truly the best of this community and of our country and I thank you very, very much," he said.
Photos: Office of the Prime Minister