(Photo) "We love this stuff!" The Salvation Army Scout Group at Northridge CC in Aurora, Ont. (Photo: Homin Kwon Photography)
At the end of Grade 11, Avery Larsh went on a four-day canoe trip to Algonquin Provincial Park in Ontario as part of her outdoor education class. They paddled and portaged about 10 kilometres a day, camping at a different spot each night. On the third day, Larsh was with a smaller group trailing behind the others. Just as she was thinking they needed to catch up, she realized it was too late. The main group—with their leader, tents and most of their food—was nowhere in sight.
Her classmates started to worry, but Larsh stayed calm. She knew how to read a map, use a compass, start a fire and build a shelter—all skills she had acquired as a Scout with the 1st Northridge Salvation Army Scout Group. Using her orienteering knowledge, she guided the group to the meeting point, where their leader was relieved to see them.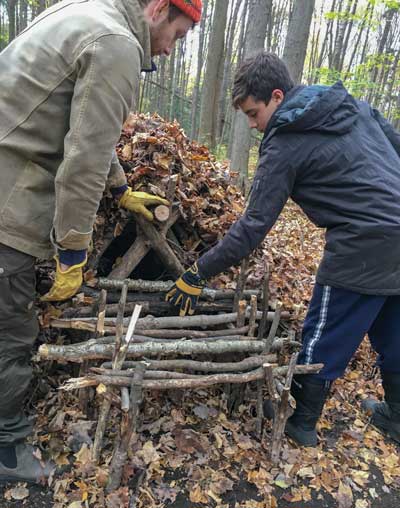 "Scouting prepared me for life in a lot of ways," says Larsh, now in her second year of kinesiology at the University of Waterloo, Ont. "It gave me leadership skills, and taught me how to co-operate with people in groups. It showed me I could reach my goals—to see what I need to do and take steps to get there. It gave me confidence to realize, 'I can do this.'"
Larsh earned the Chief Scout's Award, the highest achievement for Scouts, as well as The Salvation Army's top honour, the General's Award. The Salvation Army has a long history with Scouts Canada, with a memorandum of agreement to work together reaching back more than 80 years.
"We function as one organization, with the same uniform and badges, but we are governed and accountable to the Army," says Ray Varkki, Scout group leader and community capacity development co-ordinator at the Army's Northridge Community Church in Aurora, Ont.
"This is not just a Scouts Canada program; it's very much the Army's program—and it's an incredible leadership development and community outreach tool."
Duty to God
The Northridge Scout group is one of a handful across the territory. Varkki—or Akela to the pack, after the wolf in The Jungle Book—has been involved with Salvation Army Scouting for more than 30 years.
"I believe in it as a ministry," he says. "Scouting is based on the principles of duty to God, duty to others and duty to self. Our goal is to help kids grow and learn about the outdoors and God, in an atmosphere of fun and friendship. It's a program with so much potential."
About half of the 35 kids in the group attend Northridge, and half come from the community. "When it comes to outreach, parents might not know about the church, but they know about Scouts," says Varkki. "They know the cliché about a Scout helping an elderly woman across the street—that these are youth who care for the community, who try to make a difference. There's a level of trust."
As a Christ-centred, church-based program, the leaders model a life of faith and service, and support the kids in their spiritual development. "We slowly introduce them to prayer," says Varkki. "We have a couple of prayers we get the kids to say together, so they get used to speaking out, but then we encourage them to try and start using their own words. We want them to realize they can talk to God any time."
This was important in Larsh's life. "Scouting enhanced my faith," she says. "Learning about prayer, and that I can pray, really helped me. It definitely drew me closer to God."
On camping trips, they incorporate short devotionals called Scouters Five, and talk about God as they explore the natural world. "On a hike, we found evidence of humankind—footprints, trees cut down, a gum wrapper. Our next question was, where do we see evidence of God?" says Varkki. "We talked about the wind—we can't see it, but we can see trees swaying. In the same way, creation points to God."
Scouts can earn a "Christian Religion in Life" badge, tailored to The Salvation Army, with different requirements for each age group. By stage four, they must know the Army's 11 doctrines, serve in the community and know the requirements for senior soldiership, as well as the value and purpose in wearing a uniform.
"We are raising up youth to become leaders, not just in our community, but in the church," says Varkki.
"We Love This Stuff!"
As the Scouts gather on Wednesday evening, they pay their dues—with money they've earned—then laugh and joke around until everyone has arrived.
"These kids are so busy, so programmed. Everything is competing for their attention—school, TV, social media," says Varkki. "When they come to Scouts, it's their friend time—the one solid thing in their week where they feel accepted and welcome, and they can let their hair down and be a kid."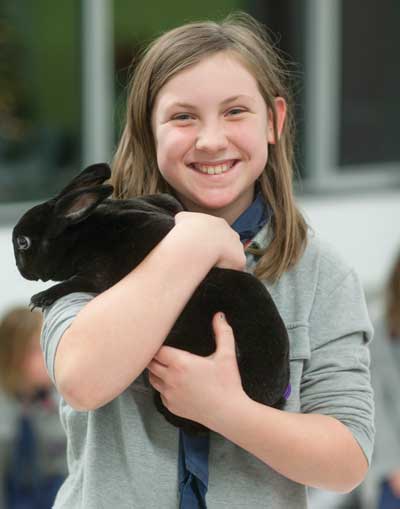 Larsh's younger sister, Hannah, is now a Cub Scout. She loves art, camping and working toward achievement badges. "I like Scouts because nobody bullies me or hurts my feelings," she says.
"Her confidence gets better every time she goes," says her mom, Crystal. "It's somewhere she feels comfortable, where she can be herself, and not have to worry about any kind of judgment or teasing. They embrace the individuality of each child. Their voices are always heard."
Before they start the evening's activity, Varkki asks what kind of week they had, reminding them to stand when they reply. "It's a small thing, but it builds confidence, and helps them learn to speak up for themselves," he says. Leaders try to say something positive and encouraging to each child every week.
Throughout the month, each week has a different focus—the outdoors, badge work, special guests, such as Zoo to You, and themes. This week, the theme is Remembrance Day. After watching and discussing a video, they make a poppy craft and write Christmas cards to Canadian soldiers, then play a game of Captain's Cabin in the church gym, led by Peter Arbour.
"The floor is lava!" Varkki yells when the game is over. The kids scream and laugh, and run back to the meeting room. "I love working with kids," he says. "It's fun. What's not to like? You get to be messy, to explore and be creative. There's no failure. It's awesome."
Cub Scouts Alana, Sophie and Estelle agree that Scouts is fun.
"We play games," says Alana.
"We make crafts," adds Sophie.
"We're all friends," says Estelle. "We go camping and do community outreach. I like that."
As the evening winds down, Varkki calls out, "Energy check?" The Scouts shout back, "We love this stuff!"
Outdoor Fun
Outdoor adventure skills are a big part of Scouts, and the group goes camping several times a year. In March, the older youth pitch their tents in the snow and spend a night sleeping outside. In October, they learn how to build a wilderness survival shelter and start a fire using a bow drill. Younger kids learn how to identify trees based on their leaves and bark. And everyone takes a turn preparing meals and cleaning up. They earn badges recognizing their progress.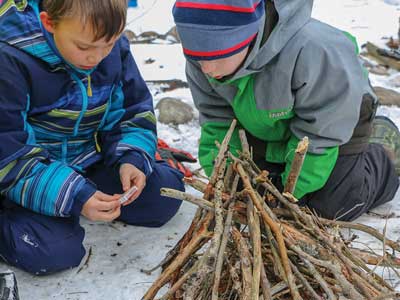 "They're developing life skills—things they don't learn at school," says Varkki.
In the summer, the older youth go on a week-long excursion to the Haliburton Scout Reserve on Kennibik Lake, Ont., and help to plan the trip.
"We use hundreds of Post-It Notes to plan out an entire program—everything from who's cooking each meal to what happens if it rains," says Varkki. "So if they're working on a group project at school, they know how to bring a team of people together."
The Scout camp offers a wide variety of activities, from canoeing and sailing, to rock climbing and high ropes, to archery and riflery.
"Rappelling down a cliff backward was really cool," says Larsh. "I definitely wouldn't have tried that on my own, if I wasn't in Scouts!"
Service With a Smile
But even more than outdoor skills, Scouts is about community service. Every June, they do a weekend service project, staying at a local Army corps. They have delivered water to First Nations reserves in Wiarton, Ont., raked flood debris from two kilometres of shoreline at Sandbanks Provincial Park in Picton, Ont., and cleaned the beach at the Army's Jackson's Point Camp, Ont.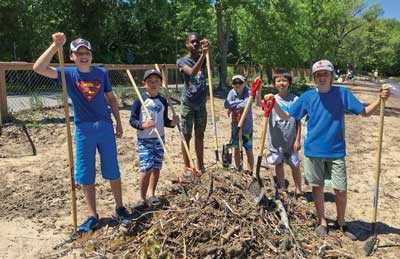 As a thank you for receiving accommodation, they lead the Sunday service, bringing the music and message. "We do everything—not just read a Scripture verse," says Varkki. "Half of our kids don't attend church, and it gets them involved."
At Christmas, they help to pack 1,500 Sunshine Bags for the community care ministries team at Northridge to deliver to retirement homes. And instead of exchanging gifts at their own Christmas party, they contribute to the world missions department's Gifts of Hope campaign.
"We consider all of the gifts in the catalogue, and talk about how they could benefit a family or village," says Varkki. "We've given chickens, goats and mosquito netting, and donated to water and sanitation projects."
The Scouts at Northridge raise funds by selling flower bulbs in the spring and popcorn in the fall, generating enough income to support their own program and other ministries as well. They contributed to the youth group's mission trip to California in 2017, to help rebuild The Salvation Army's camp after a flood, and to downtown Toronto last spring.
This Changes Everything
Recently, Varkki got a call from a former Scout, now a dad with three kids, who grew up in Regent Park, an inner-city neighbourhood in Toronto. "He was constantly getting into trouble," he says. "But then he got involved with Scouting, and started coming to Sunday school. He gave his life to Christ at a campfire at Jackson's Point.
"His whole life took a different direction," he continues. "Now, he's modelling what he learned for his own kids. He told me that Scouts and The Salvation Army saved his life.
"The impact you can have on a child's life is incredible. For anyone who works with youth, that's the reward."