Since the conflict in Ukraine began in February, The Salvation Army has been providing humanitarian aid across eastern Europe. Emergency response teams took immediate action, providing critical relief and emotional and spiritual care through conditions of extreme challenge and distress.
"As an international movement, The Salvation Army has a long-standing presence in Ukraine and neighbouring countries," says Lt-Colonel Brenda Murray, director of international development. "Because we are already part of the communities in which we serve, we are ready to respond and serve immediately in times of crisis."
In Ukraine, The Salvation Army's Eastern Europe Territory notes that, as of March 25, 2022, all Ukrainian officers and soldiers are alive and are in places of safety. However, the Kharkiv and Donetsky corps in eastern Ukraine are not currently active "due to the dangerous situation around them."
While the Eastern Europe Territory is not the largest in numbers, its response to the crisis has been swift and far-reaching. "Under these challenging circumstances, we are doing our best and God provides us strength and courage," the territory reports.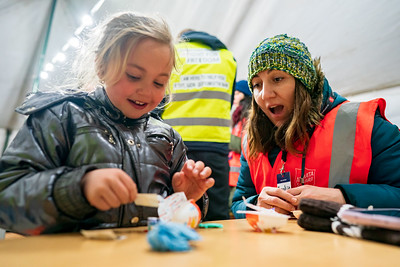 In Romania, The Salvation Army is assisting with a social services hub operated by the local government in Bucharest. The Army continues its ministry at the Siret border crossing, which is captured in the video above. "We met a lot of people who were desperate because they were running from war and they were trying to find a safe place," says Lieutenant Emil Ghenea of the refugees in Siret. "And we were here to be with them and help them because they needed to feel that we are with them and that they are not alone."
In Moldova, the Army continues to provide accommodation, food and other supplies to refugees, as needed.
Between February 24 and March 20, the Eastern Europe Territory provided:
6,480 cooked meals
2,750 food parcels
1,343 water bottles
1,285 hygiene products
2,218 diapers
415 baby formula
As well:
1,550 adults were accommodated in Salvation Army buildings
726 children were accommodated in Salvation Army buildings
570 people accommodated in non-Salvation Army buildings were assisted by the Army
278 people were assisted with health and medication
824 people volunteered with Army's efforts.
For more information on the Eastern Europe Territory's response to the crisis, download the report.
Outside the Eastern Europe Territory, the Army has been actively providing support to refugees in multiple locations in Poland, as well as Germany, Hungary, Switzerland, Belgium and France.