Kirill turned 21 days old the day he crossed the Ukrainian-Romanian border through Siret customs. He was born on March 2, 2022, in the northern region of Kyiv, Vyshorod, in the bunker of a local hospital. Valeria, his mother, says that rockets hitting the city were among the first noises Kirill heard. Four other children were born at the same time. More than a hundred Ukrainian children have been born in the hospital's bunker. Valeria and Lurii, Kirill's father, left Kyiv the day before the destruction of the Irpin Bridge and took refuge in their parents' house. As the bombing continued, they decided to leave Ukraine.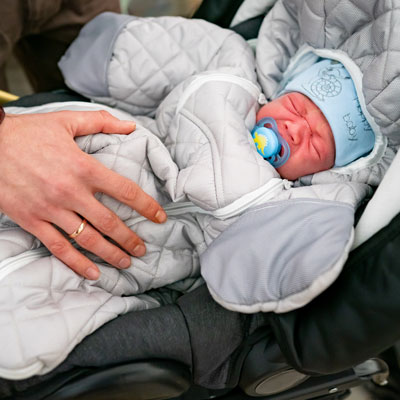 Lurii's sister's house was bombed and destroyed, and that scared them even more. Lurii crossed the border with a certificate of disability, convinced that he could help his country in other ways and, at the same time, give Kirill a life away from the horrors of war. Lurii's father still remains in Ukraine, but in four months he will turn 60 and is allowed to leave the country. Currently men 18-60 are forbidden to leave Ukraine, obligated to stay and fight the war.
They crossed the border at Siret after a long and difficult road and were met by Salvation Army volunteers and guided to the first minibus to Italy, where Lurii's grandmother was waiting for them in Pescara. She confirmed to us that they arrived safely after another 20 hours spent on the road.