Communities across Ontario, Quebec and New Brunswick have declared states of emergency due to rising waters, as floods have forced thousands from their homes. When the flooding began, The Salvation Army mobilized to affected areas in all three provinces, providing first responders, volunteers and those affected by the flooding with practical, emotional and spiritual care.
In Ontario, the Army is providing assistance in Ottawa and the surrounding areas. The response began on Good Friday, as local emergency disaster services (EDS) personnel mobilized to provide food and emotional and spiritual care to those affected by flooding along the Ottawa River.
As waters continued to rise, more and more volunteers came out to sandbag. To meet the increase in the number of people needing our services, additional Salvation Army personnel came from across the country to assist with relief efforts. To date, more than 5,000 meals have been provided by the Army.
"At the canteen location I served at, people worked hard on sandbagging to protect their homes," says one Salvation Army volunteer. "Many said their spirits and energy received a boost when they saw The Salvation Army."
On April 27, the Salvation Army's canteen in Constance Bay, just west of Ottawa, saw a visit from Prime Minister Justin Trudeau, who assisted with sandbagging efforts.
"The Ottawa River continues to rise above peak levels seen in 2017," says Glenn van Gulik, divisional secretary for public relations, Ontario Central-East Division. "Salvation Army EDS personnel will support relief efforts as long as necessary."
In Rigaud, Que., which also sits on the Ottawa River, The Salvation Army has deployed officers to provide emotional and spiritual care to first responders since April 22. Elsewhere in Ontario, the Army is providing support to people affected by flooding in Huntsville and Bracebridge.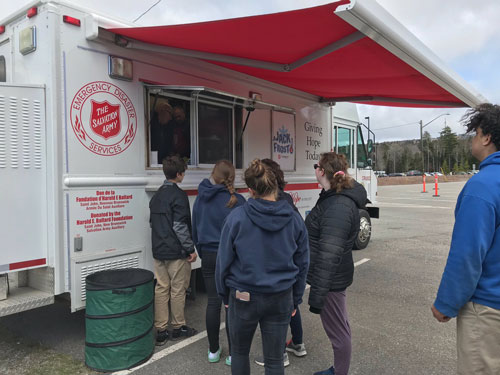 In New Brunswick, Salvation Army personnel have mobilized in Fredericton, Saint John and Sussex to offer assistance.
The Army's Fredericton Community Church has been the centre of the Army's response in that city, providing meals, showers, food baskets, vouchers and other emergency aid.
"At The Salvation Army, we are starting to see an increase for shower usage as some areas have had their water tanks disconnected in basements," says Jan Keats, EDS co-ordinator, Maritime Division. "We will continue to assist those who require emergency supplies of food and water."
In Grand Bay, a suburb of Saint John, the Army received a request from the fire department to feed volunteers who were filling sandbags at the local quarry. A community response unit and a team of volunteers answered the call, serving residents, volunteers and military personnel.
As flood waters begin to recede, the affected communities are developing longer term recovery plans, and The Salvation Army has agreed to assist in feeding volunteers and first responders during the recovery phase.
To support The Salvation Army's flood relief efforts, please visit salvationarmy.ca/floodresponse.