"Right after I was married, my mother-in-law sat me down and gave me a set of rules to live by," shares Kamal Dhillon. "They were, basically, whatever happens in this home, stays in this home, and from this day forth, your husband will be your god.
"And in my mind, I'm thinking,
What could possibly happen in this house that I couldn't tell anybody about?
" The answer was more horrific than Kamal ever could have imagined.
Living Nightmare
Born in India, Kamal immigrated to Canada with her family at the age of 16, settling in Richmond, B.C. Shortly after finishing high school, she entered into an arranged marriage with a man she hoped would love and care for her. That dream was shattered on her wedding night, when her new husband raped her, leaving her with injuries so serious she needed medical treatment.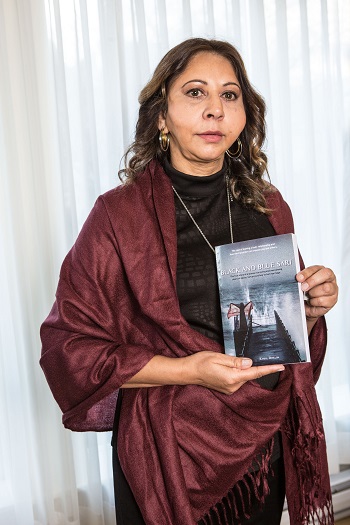 "That was my brutal eye-opener to a life of violence and cruelty—a life of sometimes begging to live, and other times begging to die," Kamal says.
Her husband was an alcoholic; the first time he beat her it was because she tried to stop him from going out drinking with his friends. From there, his behaviour escalated to the point where he was physically abusing her almost every day, in addition to the relentless emotional abuse.
Though Kamal lived in constant fear, escape seemed impossible. "One time, I ran outside to get help, and after that, he put furniture in front of the doors," she remembers. "Windows were locked, curtains were closed and the phone was taken away, so there was no way that I could get help."
After they had children, Kamal's husband forced them to watch and even participate in the abuse. "He made them hit me, pull my hair, punch me, and if they didn't do it the way he wanted, then he would demonstrate and make them hit me harder."
When Kamal eventually told her parents what was happening and asked for help, they did nothing. "Instead, they told me, 'Well, don't say or do things that anger him. Just keep the peace,' " Kamal recalls.
"The reason they brushed it off was to keep their honour," she explains. "If I had left him, or if people knew what was going on, the blame would fall on me. People would ask, 'What is she doing wrong? Is she a loose woman?' And that was a terribly shameful thing for my parents to bear. So I had to
put up with it."
Kamal's husband threatened anyone who tried to help her, leaving her totally isolated.
Saved
Enduring 12 years of abuse, Kamal could take no more after the night her husband tried to kill her. He had taken Kamal and their four children to India on a supposed holiday; in reality, he was fleeing Canada because he had assaulted Kamal in public, and was arrested and charged by police.
Under cover of darkness, he brought Kamal to the ocean and tried to throw her off a pier. But she fought back, holding on to the railing with every ounce of strength she had.
"I was screaming for help," Kamal remembers, "and then I heard a man's voice saying, 'I'm coming.' I never saw the man, only a bright light."
Kamal's husband let her go, and she returned to Canada without him.
While waiting at the airport, Kamal had a chance encounter that would change her life. "I met a woman who told me she had a message for me," Kamal recalls. "She said, 'I want to tell you that God loves you very much.' I said, 'What are you talking about?' "
She told Kamal that Jesus had died for her. "Even if you were the only person on earth, He still would have died for you," the woman said.
"She listened to me," Kamal says. "She held my hand. And at one point, she even wiped away my tears and said, 'God is holding all these tears in His hands, and one day, you will know why you went through what you went through.' I prayed with her, and accepted Jesus that night."
Beacon of Light
Kamal's husband followed her back to Canada and their living situation resumed. But Kamal was determined to leave. "I started praying and leaning on God because I had no one else," she says. "I kept telling this unknown God—this Jesus that I was introduced to—that I needed an escape."
After a few unsuccessful attempts, she finally found refuge at The Salvation Army's Kate Booth House, a shelter for women in Vancouver. "The Salvation Army was the beacon of light that I was searching for in that dark place," Kamal remembers. "I felt safe, seeing how much they cared about me and knowing they were watching my back."
Through an invitation from a Kate Booth employee, Kamal found a church home where she could grow in her new faith.
"It was not a worker-client relationship. We were a family," she says. "At Kate Booth, I was listened to; my pain, my trauma, was taken seriously. Every day I was getting stronger, and I began to dream again."
Wanting to help women like herself, Kamal decided to go back to school to study social work. After finishing her diploma, she got her first job, at Kate Booth, where she worked for the next eight years. "It was an awesome experience," she says. "Now I'm on the other side. I can understand what the women are saying because I've been there."
Passionate Advocate
The physical scars from the abuse she suffered will always be with her—Kamal has had 11 surgeries to try to repair the damage to her face. But now, those scars are a source of strength.
Today, Kamal is a respected author and speaker, presenting at conferences on domestic violence, to organizations such as The World Bank and to government, advocating for changes in laws and better services for victims. She also uses her experiences to train police and front-line workers in how to respond to and assist victims of domestic abuse. Her autobiography,
Black and Blue Sari
, was published in 2012, and she is working on a follow-up book.
"Kamal is passionate about freeing other women from violence and educating the public to empower everyone to stop the violence," says Major Cathy Burrows, former executive director of Kate Booth House.
For her tireless efforts to end domestic abuse and support victims, Kamal has received many awards, including a British Columbia Community Achievement Award and a British Columbia Medal of Good Citizenship in 2016.
Though speaking out can be painful—emotionally and physically, due to her jaw injuries—Kamal presses on, finding joy as she sees lives transformed. "I'm planting seeds of hope and restoration."