Over the May long weekend, the Canada and Bermuda Territory held its first ever territorial adult music camp at Redeemer University in Ancaster, Ont., as delegates from six of the territory's nine divisions gathered for a time of music making, Bible study and fellowship.
"Every year at music camp, as the kids are registered and dropped off, you are sure to hear parents lament the fact that they are too old to go to music camp," says Craig Lewis, territorial secretary for music and gospel arts. "That's all changed now!"
Leadership for the inaugural camp was provided by Judy and Bill Way, while William and Linda Himes were special guests. Bill Himes is a world-renowned composer and conductor who recently retired after 38 years as the bandmaster of the Chicago Staff Band and territorial music secretary for the U.S.A. Central Territory. At the camp, he took turns conducting the band and the women's chorus.
Linda Himes specializes in teaching people how to study the Bible, and she skilfully walked delegates through the book of Jude, giving them a template for personal Bible study.
Rounding out the musical leadership were Marcus Venables and Bill Way (brass), and Heather Osmond and Rachel Ewing (women's chorus).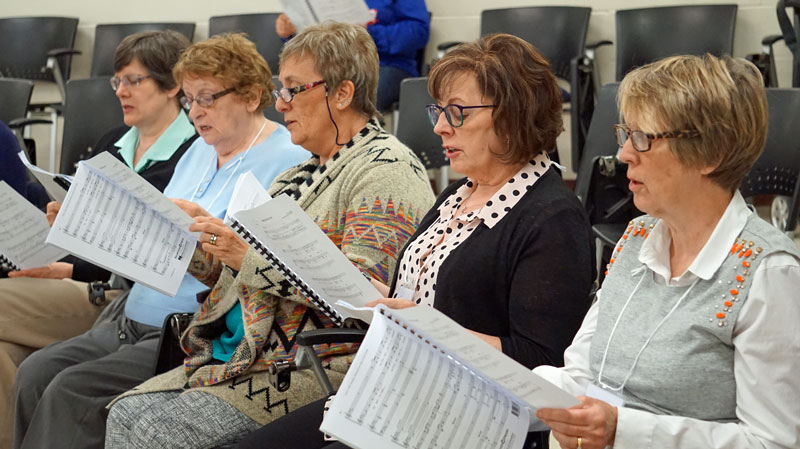 "The quality of presentations from both band and chorus was excellent, which belied the fact that the groups had only been together for five rehearsals," notes Lewis.
Along with rehearsals and Bible study, the camp included time for fun and fellowship, featuring a "murder mystery" dinner complete with costumes, as well as a talent night.
"The response from those in attendance was overwhelmingly positive," says Lewis. "We look forward to making the camp an annual event."