Ocean Crest Corps in Campbell River, B.C., celebrated its 30th anniversary in October 2022 with a church service and afternoon luncheon, followed by a cake cutting.
In 1992, the corps opened as a church plant and the first corps officers were Majors Les and Cathy Burrows, now corps officers at Victoria Citadel. Majors Burrows were invited to the celebratory event as guest speakers.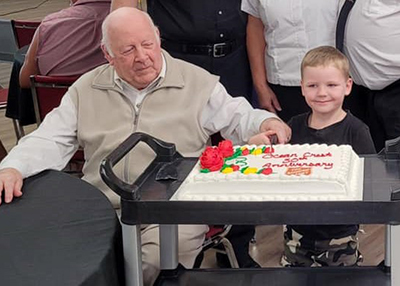 In a video shared on the Ocean Crest community ministries Facebook page, Salvationists and former officers offered greetings, prayer and words of encouragement to the church and the people of Campbell River. "It's hard to believe the work in Campbell River started from a
suggestion by Lt-Colonel Bill Kerr, divisional commander at the time, when he said to us, 'What do you think about Campbell River?' " said Bob Armstrong, who had been stationed as an officer in Comox, B.C. "So, we started church services in the afternoon at a local hotel. Soon after that, we opened a thrift store and a drop-in centre where people could come in, see a friendly face, have a cup of coffee and receive guidance."
These same ministries continue to grow in Campbell River. Ocean Crest is home to vibrant men's and women's Bible studies, a weekly prayer group and monthly ladies' group. With a growing number of new couples and children coming to the corps, Ocean Crest has committed to supporting families through their youth group and "messy church," a youth program that had been on hold since the beginning of the pandemic but returned in the fall. "In 2022, we sent 13 kids to Camp Sunrise, which was a real blessing," says Captain Violet Hopkins, who serves alongside her husband, Captain Keith Hopkins, as corps officers.
Outside of the corps, the Salvation Army thrift store in Campbell River is thriving, and community and family services continues to serve lunch daily to those in the community who need it, including many seniors and families.
"It is a pleasure to serve here as corps officers," says Captain Violet Hopkins. "It is a very welcoming corps and those who attend as new members or those who have chosen to returnto us say that they feel very welcomed and loved here. There is a wonderful sense of unity and a great community to be a part of.
"We are thankful for the staff and volunteers here at Ocean Crest and we appreciate each of them," she continues. "Our hope is that the Lord will continue to work within the corps, and that we will see the ministry grow in ways that we could not imagine."