In 2018, the Labrador West Community Church in Labrador City, N.L., closed due to safety issues in the building. At the time, other local churches and facilities such as the Arts and Culture Centre and Glad Tidings Pentecostal Church provided a place for The Salvation Army to continue Sunday worship, youth programs and their community luncheon program. Home league, Bible studies and mission board meetings operated out of office space at the Labrador West Mall.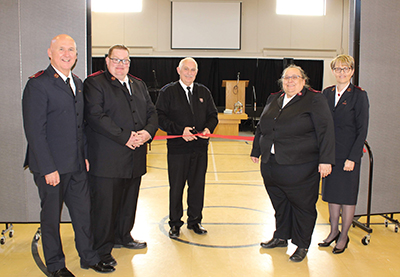 In September 2022, Labrador West Community Church officially reopened its doors to the community and the congregation. They celebrated the reopening with a ribbon-cutting ceremony and open house, followed by an in-person Sunday worship service and potluck, attended by Majors Michelle and Scott Rideout, area commanders.
Thanks to a $25,000 donation by Tacora Resources, as well as donations by other local companies and financial support from church members, Labrador West had the resources to do the necessary building repairs. The corps can now continue to serve its community and offer programs such as the free community luncheon and L.O.T.S. (Loving Others Through Supports), a group for women who have experienced the loss of a spouse. Beginning this year, a new wellness group funded by a territorial innovation grant will launch for those facing financial and social vulnerabilities.
"The reopening has meant that we have been able to resume our services in a more accessible fashion," explains Captain Lana Anstey, corps officer. "There is now an awareness of our presence. For our congregation, there is a renewed sense of fellowship. The shutdown of the building, followed by COVID restrictions in 2020, have been challenging for people, so this is a time of reconnecting."
This story is from: