Photo (above): Mjr Everett Barrow, Lt-Col Jim Champ, Frank Pullia, Mjr Lori Mitchell, Jordan Lester, Bonnie Moore and Patty Hadju break ground for the new Journey to Life Centre
The Salvation Army in Thunder Bay, Ont., took the next step in building a new Journey to Life Centre, with a ground-breaking ceremony and launch of a capital campaign in May. This new facility will offer innovative and expanded programs to help clients break free from the cycle of homelessness and poverty.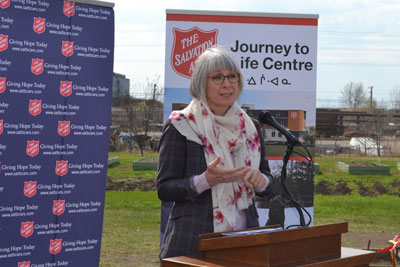 Various Salvation Army and community leaders took part in the ceremony, including Lt-Colonel Jim Champ, then secretary for communications; Major Everett Barrow, divisional commander, Ontario Great Lakes Division; Major Lori Mitchell, executive director, Thunder Bay Community and Residential Services; Frank Pullia, acting mayor, City of Thunder Bay; and Jordan Lester, Bonnie Moore and Michael Larizza, members of the Thunder Bay Community Foundation (TBCF) board. As part of the ceremony, the TBCF presented a gift of $350,000 from an anonymous donor to launch the next phase in the capital campaign.
The new centre will replace the aging, former hotel that currently is home to the Army's residential and community programs. The 30,000 square-foot, three-storey building doubles the size of the old building. Along with continuing the previous facility's shelter programs and community and family services, the Journey to Life Centre will feature a transitional housing component to help residents learn to live independently in the community. A wild game kitchen will make it possible for the centre to accept wild game and provide traditional meals and feasts for residents. It will also include a wellness centre to provide physical fitness and promote healthy lifestyles.
Construction is planned to begin in August with completion expected by the fall of 2019.