"This is a historic day in the life of the Canada and Bermuda Territory," declared Colonel Edward Hill, chief secretary, as he introduced the territory's new leaders, Commissioners Floyd and Tracey Tidd, who were installed during a service at Winnipeg's Heritage Park Temple on October 6. The appointment is a homecoming for the Tidds, who returned to the territory after six years of service in Australia.
"Commissioners, you've come to a territory that's unmatched in its size, quality, complexity and opportunities to push forward the mission of The Salvation Army," the chief secretary continued. "We're thrilled that you're here to lead us."
The service, which was
broadcast by livestream
across the territory and beyond, began with a prelude by the Heritage Park Temple Band (BM Jim Moulton) and Heritage Park Temple Songsters (SL Donna Lee Samson), followed by words of welcome and a land acknowledgment from Major Shawn Critch, divisional commander, Prairie Division. Ahead of the installation, prayers of dedication were offered by Salvationists Emma McNeilly, Cadet Andrew Sweet and Donald Beardy, who shared his prayer in Ojibway.
The installation of Commissioners Tidd was conducted by Commissioners William and Lorraine Bamford, territorial commander and territorial president of women's ministries, U.S.A. Eastern Territory. During the ceremony, the Bamfords charged the Tidds to preach the Word of truth, uphold the doctrines of The Salvation Army and accept responsibility for the spiritual well-being of the members and officers of the Army, as well as the unsaved.
"It is a privilege to install you as territorial leaders of the Canada and Bermuda Territory," said Commissioner William Bamford. "Be strong in the Lord and in the power of his might."
Responding to the installation, the capacity crowd at Heritage Park Temple rose to their feet with a standing ovation, as the Tidds offered the salute.
Following the ceremony, Denise Young and Captain Crystal Porter, divisional youth secretary, Prairie Division, offered words of welcome on behalf of the territory's soldiers and officers, respectively, and junior soldier Claire Samson gave the commissioners a bouquet of flowers.
In her response, Commissioner Tracey Tidd reflected on her call to officership. "Thirty-five years ago, I boarded a train to training college in Toronto," she said. "I had no idea what I had signed up for, but I did know that God placed a call upon my life, and when I stepped out in obedience to that call, I stepped out in faith."
Commissioner Tidd then shared from Philippians 1:1-6, paraphrasing verse 6: "Being confident of this, that he who has begun a good work in me, he who has begun a good work in The Salvation Army, will carry it on to completion until the day of Christ Jesus."
Addressing those gathered at the corps and watching by video, she continued, "I am counting on you as partners of the gospel to pray with us that we would all understand what God has planned to do next in and through The Salvation Army in the Canada and Bermuda Territory and beyond."
In his message, Commissioner Floyd Tidd focused on Joshua 1:1-9. Noting how Joshua built upon the leadership of his predecessor, Moses, the commissioner took the opportunity to acknowledge Commissioner Susan McMillan, the previous territorial commander, and thank God for all that was accomplished during her tenure.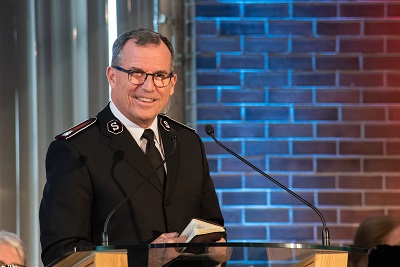 Declaring that God wants to write new chapter in Canada and Bermuda, Commissioner Tidd challenged the congregation: "If the vision we come up with doesn't intimidate us, it probably insults God because it will be a human vision that you think you can do on your own."
Just as Joshua could not lead the Israelites in his own strength, but only by the grace of God, so, too, must we trust in God's faithfulness and live differently because of his grace, the commissioner said.
"Be strong and courageous, Army of Salvation," Commissioner Tidd concluded. "Embrace his grace. God is going to do new things and amazing things in us and through us. We look forward to sharing this journey with you."
Following his message, Commissioner Tidd invited those in attendance to respond to God's grace by coming forward to the mercy seat.
After a time of music and prayer, the service concluded with an enthusiastic singing of
Greater Things
, followed by a benediction from Commissioner Tracey Tidd.
Photos: Carson Samson